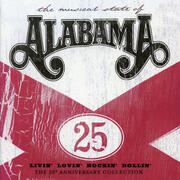 Christmas In Dixie (with spoken outro) (with spoken outro)
Alabama

By now in New York City, there's snow on the ground
And out in California, the sunshine's falling down
And, maybe down in Memphis, Graceland's all in lights
And in Atlanta, Georgia, there's peace on earth tonight

[Chorus]
Christmas in Dixie, it's snowin' in the pines
Merry Christmas from Dixie, to everyone tonight

It's windy in Chicago. The kids are out of school
There's magic in Motown. The city's on the move
In Jackson, Mississippi, to Charlotte, Caroline
And all across the nation, it's the peaceful Christmas time

[Chorus]

And from Fort Payne, Alabama
God bless why'all...We love ya...Happy New Year...Good night
Merry Christmas...Merry Christmas tonight

Written by GENTRY, TEDDY / COOK, JEFF / OWEN, RANDY / HERNDON, MARK
Published by Sony/ATV Music Publishing LLC, EMI Music Publishing

Lyrics Provided By LyricFind Inc.