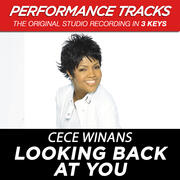 Looking Back At You (Performance Track In Key Of A/Db)
CeCe Winans

What can I do?
What wish can I make come true?
Because you mean so much to me
The love I have for you is so strong
This is where I belong
My arms are open wide, so let me hold you

[Chorus]
I will be the rock for you
The rain for you
The sun that lights the way across the dark
No matter where you are
I'm never very far away
Night and day my love will lead you through
Look into your heart I'll be looking back at you

It took some time, but finally you're all mine
It was the hardest road that brought you here
Now whatever comes will be alright
I'll never leave your side
So give me your hand and don't let go

[Chorus]

We'll find our way through every storm
Together now
Just look into your heart
I'll be there

[Chorus]

Written by WALDMAN, WENDY / GURVITZ, ADRIAN / WINANS, CECE
Published by Sony/ATV Music Publishing LLC, Warner/Chappell Music, Inc.

Lyrics Provided By LyricFind Inc.