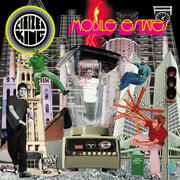 Long Walk Home (Album Version)
Citizen King

Through the tin pan alley in the dead of the

Night riding that crazy horse through the

Backyard kitchen on an a team mission to get

To the front door what's left behind when the

Sun does shine is passed out on the floor I'm

Going to lay my head down before Sunday

Morn' it's a long walk home kickin' dirt and

Stones it's a long walk home when you're

Coming down easy it's a long walk home on

The streets I roam it's a long walk home when

You're coming down easy with gum on my

Shoe nothing left to do stranded and still

Awake good company is the street I seek and

The trail that I blaze when the cock crows and

The warm winds blow I'll skip-to-my-lou 'til the

Sky turns blue and I'm going to lay my head

Down before Sunday morn' make my way

Back over cross the milky way again

Written by SIMS, MATTHEW JOHN / COOLEY, DAVID J.
Published by Warner/Chappell Music, Inc.

Lyrics Provided By LyricFind Inc.