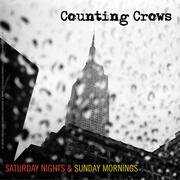 Insignificant (Album Version)
Counting Crows

Can you see me up on a building
From down on the pavement
Or out in the crowd?

Can you see me, in the glare of the lamp post?
Cause I am walking a tightrope
Into the moon.

[Chorus]
I don't want feel so different,
But I don't want to be insignificant
And I don't how to see the same things different now.

Oh, can you see me? I am one in a million
Yeah, I'm Icarus falling, out of the sun.
She sees me falling, a line of spotlights and chalk lines.
Through night black as a bedroom
And white as a lie.

[Chorus]

Diving through the dark, while the night turns blue
And you wear your intentions, as I wear my intentions
So clear.

[Guitar Bridge]

If you see me, wading through water
Or come drowning a river
Right in front of the world

Hey you can wash your face and hands in the stream of my anger
Cause it's as bright as white paper
As dark as a girl

[Chorus: x2]

Written by POWERS, MILLARD / BRYSON, DAVID / IMMERGLUCK, DAVID / BOGIOS, JAMES / GILLINGHAM, CHARLES / VICKREY, DANIEL / DURITZ, ADAM
Published by EMI Music Publishing

Lyrics Provided By LyricFind Inc.