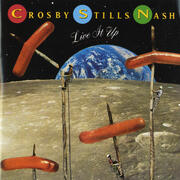 Crosby, Stills & Nash

[Chorus]
If anybody had a heart
Yours would never be broken
If anybody had a heart like mine

In this world of right and wrong
The hardest part is beginning
And by the time you get where you belong
You're either losing or winning

Well, I don't know how but people seem to know
When you want somebody bad enough
Ah, well I want you now and wherever you go
I'm gonna love you till you've had enough

[Chorus]

Some people treat you like the clothes you wear
They only see what you show them
Just let them talk baby I don't care
They don't know where we're going

But I love you so much and I have for so long
How could anybody doubt it?
Ah, just one little touch and my love is so strong
Baby, how can we live without it?

[Chorus]

When you love somebody
You might stumble, you might fall
If you love somebody hard enough
You might just get it all

[Chorus: x3]

Written by CICCO, DANIELE / CISARO, FRANCESCO / DI MAURO, GIUSEPPE / POZZANI, VALENTINA
Published by Universal Music Publishing Group, Curb Music/Curb Records/Mike Curb Music/Curb Songs, EMI Music Publishing, Sony/ATV Music Publishing LLC

Lyrics Provided By LyricFind Inc.