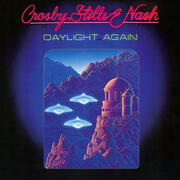 Into The Darkness [Remastered LP Version] (Remastered LP Version)
Crosby, Stills & Nash

Into the darkness soon you'll be sinking
What are you doing? What can you be thinking
All of your friends have been trying to warn you
That some of your demons are dying to drag you
Away (Into the darkness) into the darkness
Into the darkness away
All of your life you've been making your payments
Alone on the phone with your business arrangements
No wonder no one could ever get near you
You're screaming too loud no one can hear you
I see you coming to the end of the day
And was it worth it? No one can say
I see your face it is ghostly pale
Into the sunset we are watching you sail

Temperature's rising over the rainbow
What are you hiding? Afraid of your shadow
We have been trying, trying to find you
There's no use denying our love is behind you
Stay out of the darkness
Out of the darkness stay

Written by NASH
Published by Sony/ATV Music Publishing LLC

Lyrics Provided By LyricFind Inc.