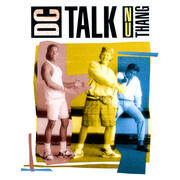 When dc Talks (Nu Thang Album Version)
dc Talk

[It's time ta jam!]

[Chorus:]
When DC talks
When DC talks
When DC talks
When DC talks

When I talk, I talk about the Lord
You can be sure that you can't afford
To miss a lyric, a rhyming line
You know, they got meaning, they're right on time
Totally true and to the last letter
If it's Christian it ought to better
Omit a bit, it should be the best
If it's of the King, you know it's blessed

[Chorus:]

D is for decent, I mean what I say
But obscene, I don't play that way
See is for Christ, to the I-A-N
That's right why'all, I am born again
That's my tool, my gift to use
Are-A-P to spread the news of God
So you know the part now
Now tell the world what's on your heart

[Chorus:]

Written by HEIMERMANN, MARK J. / MCKEEHAN, TOBY
Published by Universal Music Publishing Group

Lyrics Provided By LyricFind Inc.