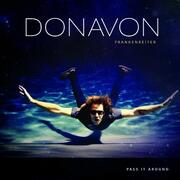 Too Much Water (Album Version)
Donavon Frankenreiter

I went to a party
We were having a good time
And people were talkin'
And drinking some wine
But the best thing that happened...
I got lost in my mind

[Chorus: Repeat 2X]
Too much water in one place
Not enough somewhere else

And then she called me on the telephone
It was late last night
Ah, she sounded so strange
I said, 'is everything alright'?
She said

[Chorus:]

Ah, there's so much we can give
Ah, there's so much life to live
So why don't we, ah, why don't we?

And then I fell asleep and had a dream
It was the 4th of July
And there were kids runnin' round and round
Ah, the ground was so dry

[Chorus: Repeat 4X]

Written by LEHNING, JASON KYLE / FRANKENREITER, DONAVON / TASHIAN, DANIEL
Published by Warner/Chappell Music, Inc.

Lyrics Provided By LyricFind Inc.