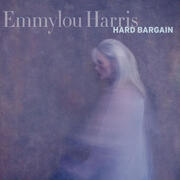 Emmylou Harris

So it's finally come,
You have left this world,
But we'll miss our Kate,
Our darling girl!
We held your hand,
Kissed your lovely brow,
And bid farewell
You're sailing now

Free from the pain
You laid that burden down,
But you're strong and giving heart,
Will surely be your crown

As you slip the surly bonds of earth
And sail away
Perhaps we will meet again
Somehow, some day

Until then, there's nothing we can do but wait,
To see once more,
Our darling Kate

All those nights we sang
And talked 'til the sun come up,
You fed our souls,
You filled our cup
With your perfect words
And oh that voice,
We fell in love,
We had no choice.

And I can't say
For sure where you have gone,
But in that place
I'm bettin' there's a better song

For we've all known down here,
The taste of joy and strife
You were the sweetest note
In the chord of life.

Now you've slipped the surly bonds of earth,
And sailed away
Perhaps we will meet again
Somehow, some day
But if there was one name I could consecrate
It would be yours
It would be Kate

Written by HARRIS, EMMYLOU
Published by Universal Music Publishing Group

Lyrics Provided By LyricFind Inc.