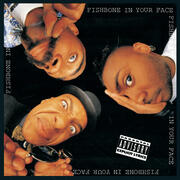 Give It Up (Album Version)
Fishbone

Are you getting tired of all the ravages of war?
Aren't you even sure what the hell you're fighting for?
All the broken dreams of men just break me down to pray --
For peace and understanding
We just can't go on this way
ALL-TOGETHER-FREE
ALL-TOGETHER-FREE-UNITED
ALL-HUMANITY
ALL-TOGETHER-FREE-UNITED
GIVE IT UP!!
GIVE IT UP!!
GIVE IT UP!!
GIVE IT UP!!
All the lies are broken all the truth is still the same
All the love and hatred in a world that lives in pain
Will we see the Winds of Time erode this curse away
We just got to stop this madness
We just can't go on this way
(Repeat chorus)
We live for Mother Country
We live for Mother Need
We're looking for the other side
But we're here to burn and bleed
We all know the Righteous --
The truth shall lead the way
But we all know the Darkness so believe me when I say...
(Repeat chorus)

Written by JAMISON, MECHALIE S/TERRY, BOBBY/WILLIAMS, CURTIS LEON
Published by EMI Music Publishing, Kobalt Music Publishing Ltd., Warner/Chappell Music, Inc., Universal Music Publishing Group

Lyrics Provided By LyricFind Inc.