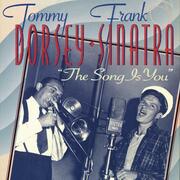 The World is in My Arms (From Hold On To Your Hats") (1994 Remastered) (1994 Remastered)
Tommy Dorsey & His Orchestra

Here was I, a gypsy,
Looking for a world to roam in,
Now the world is in my arms.
No more endless searching for a place to feel at home in,

For the world is in my arms.
Mexican hill flower the sky,
Sappoco see here in your eye
When I see you smile,

I see the sunset of Geneva,
What's that magic in your charms,
When I hold you,
I hold the world right here in my arms.

Written by LANE, BURTON / HARBURG, E. Y.
Published by Warner/Chappell Music, Inc., NEXT DECADE ENTERTAINMENT,INC.

Lyrics Provided By LyricFind Inc.