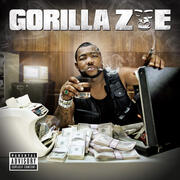 Untamed Gorilla [feat. JC] (Explicit Album Version) (feat. JC)
J.C.

Ya I'm an untamed gorilla
Hit you wit a slug
No its 9mm
Find me in the projects straight hood nigga
Red beep beep
Yes sir I'm gunna hit em
I'm an untamed gorilla
Ya I make the chain do flips I'm a wizard
Real nigga say (Hey)
If you go throw money like confetti then let it rain
I'm eight towns Hannibal
Mo fuckin' cannibal
Untamed gorilla bitch you should of fed the animal
See I been to hell and back
Sold weed, sold crack
Bust first, bust back
Fuck beef what's that
Kill them, shit to lose
Shit to prove
What's the move
Time to eat
Where's the food
Barrel to the head
Bust a tooth
You know what a man nigga gunna do
You know what a man nigga been through
Now you don't want beef with you know who
Tell me what I do
Stay strapped

Written by JOHNSON, DANIEL / MATHIS, ALONZO / CROWDER, JUSTIN
Published by Warner/Chappell Music, Inc.

Lyrics Provided By LyricFind Inc.