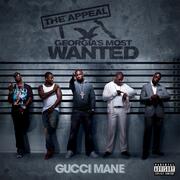 ODog (Feat. Wyclef) [Explicit Album Version] (Feat. Wyclef)
Wyclef Jean

I'mma thug.
Even though I wan' change my life then get it right
City judge, I'm always gonna be a thug.
Like hold on, many of society that wanna see me underground.
But I just bought a plane
Sky is the limit (sky)
My judge just took off the round now,
Ain't nobody gonna stop my destiny (destiny).
Ladies like, pop a bottle now ("it's gucci")
'Cause their man just came home now,
Doing time in the penitentiary.
(Gucci "yeah")
And if come from the ghetto and you feel like a champion,
Lemme see you put your hands up
(Gucci "put your hands up")

Written by JEAN, WYCLEF / JEAN, SEDECK / DAVIS, RADRIC
Published by Sony/ATV Music Publishing LLC, Warner/Chappell Music, Inc.

Lyrics Provided By LyricFind Inc.