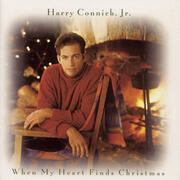 What Child Is This? (Album Version)
Harry Connick, Jr.

What child is this who laid to rest
On Mary's lap is sleeping
Whom angels greet with anthems sweet
While shepherds watch are keeping?

This, this is Christ, the king
Whom shepherds guard
And angels sing
Haste, haste to bring him; laud
The babe, the son of Mary

Raise, raise the song on high
The virgin sings her lullaby
Joy, joy for Christ is born
The babe, the son of Mary

Written by HOWARD, TOM / DIX, WILLIAM C.
Published by Universal Music Publishing Group, Warner/Chappell Music, Inc., Sony/ATV Music Publishing LLC, HOPE PUBLISHING COMPANY, EMI Music Publishing, Curb Music/Curb Records/Mike Curb Music/Curb Songs

Lyrics Provided By LyricFind Inc.