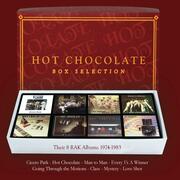 Don't Stop It Now (2011 - Remaster)
Hot Chocolate

Your lips are warmer than a fire
Just on burning kiss fills me with desire
And it would drive me mad if you should stop it now
'Cause I never ever had a girl like this before.
Keep on giving it to me
Crazy 'bout you baby (mad about you darling)
Keep on giving it to me
'Cause I'm mad about you darling
Don't stop it now.
Give me give me all you can
'Cause I need you now much more than I ever had
And I want more and more if I can get it
Baby your sweet sweet kind of love I've got to have it.
Keep on giving it to me . . .
Darling-mad about you darling don't stop it now.
This night must last forever and if you leave me now.
You'll only break my heart don't stop it now.

Written by ERROL BROWN
Published by MUSIC & MEDIA INT'L, INC.

Lyrics Provided By LyricFind Inc.