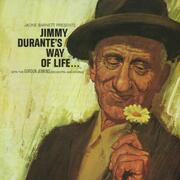 When Day Is Done (Album Version)
Jimmy Durante

Since you've gone away one thing is clear to me
You were dearer than dear to me
From the moment you came
Evenings by your side I learned to love the night
But the loveliness of the night
Is no longer the same.

When day is done and shadows fall
I dream of you
When day is done
I think of all the joys we knew

That yearning, returning to hold you in my arms
Don't go, love
I know, love
Without you night has lost its charm

Written by KATSCHER ROBERT, / DESYLVA, B.G. / DESYLVA, B.G.
Published by Warner/Chappell Music, Inc., THE SONGWRITERS GUILD OF AMERICA, Universal Music Publishing Group

Lyrics Provided By LyricFind Inc.