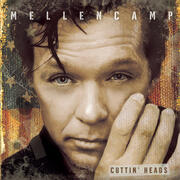 Cuttin' Heads (Album Version)
John Mellencamp

Hey Poppi yea ho
Hey Poppi yea ho
Yeah yeah yeah yeah

Lay low proud Poppi
Lay low proud Poppi (shout it out)
He's from the deep south (shout it out)
Pass Christian Mississippi
Where the cane breaks are burning every night
Lay low proud Poppi (shout it out)

[Chorus]
Hey oh
Hey oh
Oh Poppi
Hey oh
Hey oh
Hey Poppi
Hey oh
Hey oh
Yeah, yeah, yeah yeah

Poppi had a wife
And she was black and Poppi was white (shout it out)
Everything was rolling great (shout it out)
Till some man called her race a disgrace
Oh no

[Chorus]

Well Poppi went down to the river
To defend the honor of his wife
(somebody's killing somebody)
Gonna drown the man in the water (shout it out)
And the water was shiny like a new knife
But Poppi stopped at the banks of the delta
He said this sure ain't worth this man's life
Someday the wind of change
Is gonna blow on through
And put all of these jokers right
See man and sing now

[Chorus]

[chuck d]
Papa got a brand new bag
Delta blues got 'em dazed and confused
Came a long way crazy
Seems the abuse
Is racism's baby
It's wild
'Cause I connect the word with pain
Now some smile when they scream the name?
Funny how the times have changed
And the rhymes have changed
But some cat's frame remains the same
Agitating adjective
What gives? Die "n" word die
But I want to live
Known' all this
Where the word came from
I must be three times stupid
And stuck on dumb
If I use it and confuse it
With a term of love
Now popular culture
Can't stop 'til it gets enough
Underlined in marketing campaigns
I feel undermined
Heard the "n" word promotes the bottom line
Down by the river there's a great divide
Let's ride

[repeat: x4]
Don't call me nigga cause you know I don't like it like that

Shout it out
Yeah shout it out
Tell the world
Shout it out
I said
Hey oh
Hey oh
Hey oh
Hey oh
Oh Poppi
Hey oh
Hey oh
Tell the world
Yeah, yeah, yeah
Tell the world
That it ain't right
Tell the world
Don't set us back oh Poppi
Don't set us back now Poppi
Tell the world

Written by MELLENCAMP/RIDENHOUR/SMITH
Published by Sony/ATV Music Publishing LLC

Lyrics Provided By LyricFind Inc.