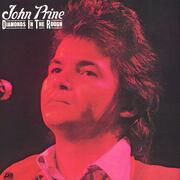 John Prine

While out sailing on the ocean
While out sailing on the sea
I bumped into the Saviour
And He said pardon me
I said Jesus you look tired
He said Jesus so do you
Sit down son
Cause I got some fat to chew

[Chorus]
Everybody needs somebody that they can talk to
Someone to open up their ears
And let that trouble through
Now you don't have to sympathize
Or care what they may do
But everybody needs somebody that they can talk to

Well he spoke to me of morality
Starvation, pain and sin
Matter of fact the whole dang time
I only got a few words in
But I won't squack
Let 'em talk
Hell it's been a long long time
And any friend that's been turned down
Is bound to be a friend of mine

[Chorus]

Now we sat there for an hour or two
Just eatin' that Gospel pie
When around the bend come a terrible wind
And lightning lit the sky
He said so long son I gotta run
Appreciate you listening to me
And I believe I heard him sing these words
As he skipped out across the sea

[Chorus]

Written by MADONNA, .
Published by Warner/Chappell Music, Inc.

Lyrics Provided By LyricFind Inc.