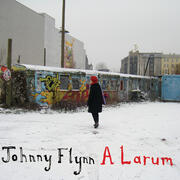 Johnny Flynn

Well I'm sure you're near
And I can almost smell you
But the winds are up at the walls again

I can hear you coming
Heaven helped you coming
I believe in heaven it's a wait away

Did you learn just how I loved you?
Did you see how far I'd been?
Would you meet me in an hour?
I could tell you what I've seen
What I've seen

[Chorus]
Cold Bread
Cold Bread
We had

Would you whine in water
Pull your chips back in
So you crawl like a crab across Black Fries Bridge
Suffer none to fade
Hit the homeward road
I'm a bowling green
A delivery boy

Have a heart that skips a beat
Oh come on
Roll along for free
In the middle of the morning
Swap your drinking nights with me
With me

[Chorus: x2]

I can live with dying
I can chew my bit
Play panic to my senses
And hijack my head
It's the rhythm of moving
And a rolling and a rattle
Its a giving instead
It's a well sprung bed
We can roll around forever
We can pray for all we've been
We can knock it hell for leather
We can call it all a dream
All a dream

[Chorus: x2]

For your outward bound
Remember what we found

Written by FLYNN, JOHN PATRICK VIVIAN / BEACH, ADAM / EDMONDS, MATT / ZEITLAN, JOE
Published by Warner/Chappell Music, Inc.

Lyrics Provided By LyricFind Inc.