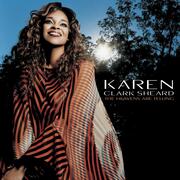 Praise Up (Album Version)
Karen Clark-Sheard

(Verse 1)
Take a look in the mirror
And evaluate yourself
Think about where you been, are
Your life strength and health
Hello
Did you hear me?
You need to get up outta that seat
As we celebrate his name in praise
Jesus, think about the ways he's made
(Vamp)
Through danger, seen and unseen
You've kept me from
From harmful things, ooooo
And to show my gratitude to you
Imma get my dance dance dance on
(Chorus)
Jump, if you feel you need to
Dance, take advantage of this chance
Stomp ya feet and throw your hands
Way up
Shout, let everthing that has breath
Take your time and express yourself
Felt the spirit its time to send some
Praise up
(Verse 2)
Take a look at your temple,
Is it sanctified inside?
Has your heart had a cleaning real good
Has your soul been revived?
Hello
Are you listening,
You need to move outta that row
As we worship him in spirit and truth
Hallelujah
Thank him for what he's done for you
(Vamp)
(Chorus 2x)
(Vamp 2x)
(Special 1)
Move somethin, move somethin(repeat)
(special 2)
Altos: oh
Sopranos: oh oh
Tenors: ay-oh
(Chorus)

Written by ALLEN, PAUL D. / MOSS, JAMES LORELL
Published by Universal Music Publishing Group

Lyrics Provided By LyricFind Inc.