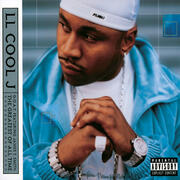 Take It Off (Album Version)
LL Cool J

I didn't even know a young lady could look that good
I'm ready the bounce out of queens and come to your hood
I'm ready the change your life baby, spend some cash
Because you got me chinky eyed like blunts mixed with hash

When your in my Ferrari, look at the seats carve your a**
L drive drunk baby, pa** the gla**
As we run up in the club politican with thugs
When your bra straps showin' baby girl it's love

'Cause you are the loose
Token and sippin' honeypoof
'Cause you are the loose
Sweet as cranberry, peach snaps and apple-loops

Runnin' with Queens finest all the way to the top
Pa** cars, hard dick and plenty money to shop

[Chorus]
Take it off, Come on and thence with me baby
Take it off, There ain't nobody who can fade me
Take it off, I'm on a hot-streak lately
Take it off, You know that a** look crazy
Take it off, You saw me up in that Mercedes
Take it off, I know my crew look shady
Take it off, You see me spendin' dubs baby
Take it off, Watch me thence for you baby

Wo they drive is live, Monte Carlo was ill
Convertible limousines, def jam got the bill
Remember R. Kelly had the house on the hill
Well when the partys over we can go there and chill

n London it's Big Ben style breakfast in bed
In Paris you were on an Eiffel Tower givin' me head
Go to Switzerland, private jets over the house
Come home, ghetto style, bend you over the couch

Real n****z, nothin' but the platnium s***
Keep that a** soakin wet, plus I'm spendin' his chips
Who's f***in' wit that, put your middle finger in the air
Has a jet pasion X-man playin' wit your hair

[Chorus]

[Repeat: x4]
Thence for me baby

To my man Black Jus baby RIP
Accessory to the crime is the prime dogg 3
When we get the money baby, spreadin' the cream
To tell your brother Joe to hold it down for Queens

And to my cousin Will, hold ya head n**** chill
J.T. the man in the car let's get the squeels
My n**** Big Bonny Puff, glad your home
Rock the bells Melly Mell, Jimmy Love and Tone

Baby we live cats, lookin' at where in we rides at
Drug walls, hip-hop beats, how 'bout that
The rest fell so far, they can't climb back
Let's take it to the video-tape, rewind that

[Chorus: x2]

Take it off, Greatest of All Times.

Written by SMITH/FENTON
Published by Sony/ATV Music Publishing LLC, Warner/Chappell Music, Inc.

Lyrics Provided By LyricFind Inc.