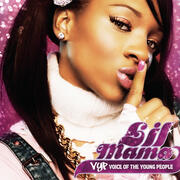 Shawty Get Loose (Main Version) (Main Version)
T-Pain

Hey [x3]

The way we get loose
We move our shouldaz
Foward
Heads back
Get it in control
Like Janet Jack
Get it on da flo
Let 'em kno' what's happenin'

L.I.L you betta ask somebody
I been on my grind since butt-touch-potty
Ya'll don't really want it with the Yung God Toddla
With a flo so spec like technolotta
It's...so sick
How da clock go tick
Keep given ya'll hit like techmatic uh!
It's the reason why I spit it
How I spit
When I spit it's like mucus
Gotta get rid of it

These chicks don't pop like me
Uncompatible girl
No comparing me
And!
Ain't none of ya'll scarin' me
Like don't cha wish ya girl was as bad as me yeah!
With a flow so sick like Twista's
So sweet
It can be cold like a mystic
Instincts come so smooth
Like what is it?
Bk-h-dub ours like a wizard

[Chorus:]
Shawty get loose!
Baby do what chu do
Lemme see ya let down your hurr
Shawty get loose!
Hit da dance flo and act like there's nobody else in hurr
Shawty get loose!
Krump!
Clown!
Break it on down
Baby do your thang
Shawty get loose!
P-h-a-t phat
Baby I ain't even know you can break it down like dat
Dat, dat dat dat dat dat dat
Shawty got loose!
Dat dat dat dat dat dat datt
Shawty get loose!

Nappy boy!
What it do(do)
Tell it to da paizzian
You already kno
Tell 'em on the mizzian
Shawty keep messin' with da lizzamz
I'm a have you loose on da flo
You gon' be steppin' with a kizzian

I mindboggle models
With a bottle a sumthin' good
I take 'em to da hood
And have dey ass go where it's ain't

A hard rap artist
That hang with sangazz
So don't think that this thang is hard
'Cause homie it ain't
I'm loose loose
You gotta be kiddin' me
You tellin' me dat shawty right here can take her hair down and do it like you do
If all of dis is true
You gotta show me what you do
Show me now do it
Five, four, three, two, two
You kno' Pain came to change da game
All da way from da same thang
To suma dat new new
Impress me I want one person on dis flo to try to test me
Now go

[Chorus:]

In da crib, in da club, on da block
It don't matta
I switch stats
Four, five, six a do da data
How she do a di di di dat like dat
Got da hood on da back
And da pockets is fat
Still rollin' rollin'
Left right
Shot callin' callin'
Dats right
Got ma team on da market
For millions we 'bout to pop it
Lock drop and roll
Like a hip-hop rock show
You neva kno' where my mind gon' go
Na na not Puerto Rican
But I like mangoes
So smooth on da dance flo
When you see me comin'
I'm runnin' it like a game show
You ain't kno'?
Lil mama go
She be runnin' and pumpin' and hit you with da bus blow
(shezz hottttttt)
From gettin' loose on da flo
And I cannot stop
What!

[Chorus:]

Written by NAJM, FAHEEM RASHEED / KIRKLAND, NIATIA JESSICA
Published by Universal Music Publishing Group

Lyrics Provided By LyricFind Inc.