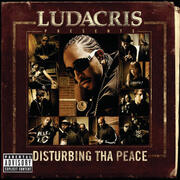 Skit (Ludacris and Disturbing Tha Peace/Ludacris Presents...Disturbing Tha Peace) (Album Version)
Ludacris

[Ludacris]
You might as well put that down we on our way to Cali to get some real dough

[Girl]
Hello

[Ludacris]
Whats up girl?

[Girl]
Whats up baby? I miss you.

[Ludacris]
I know

[Girl:]
When you coming out here?

[Man]
Who the fuck is that?

[Girl]
Ahh Damn

[Man]
I don't play that shit

[Girl]
Ow

[Man]
Get off dis got damn phone.
Nigga who the fuck is dis?
I'm a O-G Nigga

[Ludacris]
Whats up nigga dis dis Luda.

[Man]
Luda who nigga?!

[Ludacris]
Luda!

[Man]
Luda, Luda, Ludacris?

[Ludacris]
Ye, ye, yeah nigga

[Man]
Ahh Snap.
Hey man how you know my girl?
Man I got all yo albums.
Man Back For The First Time.
Man ya know what I'm saying.
I even got Incognegro man.
Ahhh man, my bad baby get up off the floor.
You didn't tell me it was Luda.
Ain't that a bitch.
My girl's fucking Luda.

[Girl]
Hello?

[Ludacris]
Yeah I'ma call you back.

Written by CROOMS, MICHAEL ANTOINE/JACKSON, ERIC/HOLMES, DEONGELO
Published by EMI Music Publishing

Lyrics Provided By LyricFind Inc.