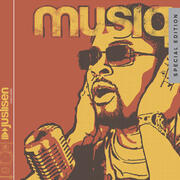 Religious (Album Version)
Musiq (Soulchild)

One Sunday morning I woke up with you on my mind
Cause I knew later on I'd see you in your glory looking so fine.
Now I could be a little forward and do things to show you how I feel
But I don't want to be disrespectful,
So I just be waiting for the day you try to baptize me with
Your kiss

[Chorus]
The more I get to know you I hope and pray to
Everyday do whatever's righteous and true
Cause your love is so religious
And Baby girl don't you know I worship the ground that you walk on, live by your
Every word 'cause your love is so religious.

I want to thank your father for making you on that day
And give blessings to your mother for raising you so heavenly.
Now in my heart I know for certain without an ounce of doubt in my mind.
That I can preach a whole entire sermon just to testify on the goodness of your love.

[Chorus]

What I want is your love, take me higher baby, take me higher,
What I believe, you're what I
Need to live a life of wholesome and good love.

[Chorus: x2]

Written by HAGGINS, CARVIN / JOHNSON, TAALIB / MODELISTE, JOSEPH / NEVILLE, ART / NOCENTELLI, LEO / PORTER, GEORGE JOSEPH JR.
Published by Universal Music Publishing Group, EMI Music Publishing

Lyrics Provided By LyricFind Inc.