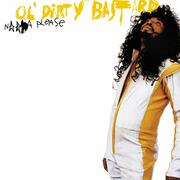 Good Morning Heartache (feat. Lil Mo) (LP Version)
Ol' Dirty Bastard

Ladies and gentlemen, huh
This a song.. that dedicated
(wee kah boo boo doo doo boo dah boh dah bah dah boh doh goh doh doh)
To me (dah boh goh ding ah, la la la la la la lah)
Mm mm
Doo be doo boo boo be doo boo woo boo bee boo oh
Wea'yeah girl
Whoa-whoa-whoa oh oh

Ah zooby dooby dooby
Whoa whoa ooh
It's on me girl, to stop fightin' and work this out, knahmsayin? f'real

(good morning heartache)
Good morning heartache, good morning
(you always by my side)
Good morning heartache good morning heartache
Thought we said goodbye last night
I tossed and turned til it seemed that you had gone
But here you are, with the dawn ooh ooh
Ooh wish I'd forget you wish I'd forget you, proper state of mind
Wish I'd forget you baby, but you're here to stay
Stop thinkin' about bein' so harsh all the time
It's seems I met you stop bein' prejudiced to each other
When my love had gone away stop bein' jealous, of one another
I ah ahh ah ah ah ah ahh
(start each day out) just by, saying to you, hello
Good morning heartache, what's new new
Stop holding me now, now wow wow wow
(can't shake you, no how) no how
(why don't you) why don't you, why don't you
Leave me alone alone ah I ah got
(i got those, Monday blues) Monday blues
(go straight through) straight through (sunday blues)
Sunday blues
(oh good morning heartache)
Good morning heartache
(here we go, here we go, here we go again)
Good morning heartache, oah, let's go
Good morning heartache good mornin' heartache babe
You're the one, who knew me when..
(yes I might as well get used to you)
(hangin' around) oh
Good morning heartache ache
I see you're back in town town
Oh
(good morning heartache)
Why don't you just, sit on down
Hold up
Why don't you
Sit down!

Written by FISHER, DAN / HIGGINBOTHAM, IRENE / DRAKE, ERVIN
Published by Sony/ATV Music Publishing LLC, THE SONGWRITERS GUILD OF AMERICA

Lyrics Provided By LyricFind Inc.