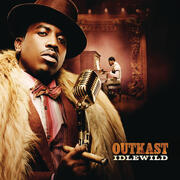 When I Look In Your Eyes (Main Version - Clean) (Main Version)
OutKast

Hey
Uh huh
Well, alright

How y'all doing? Yes ma'am!
Lookin' mighty fine

I've been around the world
Seen so many pretty girls
But I still get overwhelmed
When I look in your eyes

Been from Maine to Spain
But everything seems the same
I only feel a change
When I look in your eyes

I know you're upper class
I know you've got pizzazz
Every man wanna kiss yo', uh
And I do, too!

Sometimes, I'm just a clown
And everybody puts me down
I guess I'll come around
When I look in your eyes

Tell me, what's a man to do
To get close to you
I'm just a lonely fool
When I look in your eyes

Don't tell me "no" this time
If you do, it'll blow my mind
Have you ever seen a grown man cry?
It's an awful thang

I guess it's time to say goodbye
But I've gotta give it one more try
I'm only satisfied
When I look in your eyes

Oh please come home with me
Oh don't you wanna marry me?
I'm even gonna rub your feet when they stank

How can I let you down?
I guess I'm always gon' be around
I'm simply astounded
When I look in your eyes

Written by KENDRICK, KEVIN / BENJAMIN, ANDRE
Published by Sony/ATV Music Publishing LLC

Lyrics Provided By LyricFind Inc.