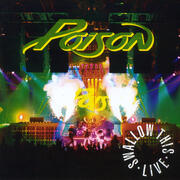 Intro (Live) (2004 Digital Remaster)
Poison

Southern California, are you ready?
From the gutters of Hollywood, California
Will you welcome
The glam
slam
kings of noise,
Poison!

Written by DALL, BOBBY / MICHAELS, BRET / JOHANNESSON, BRUCE ANTHONY / ROCKET, RIKKI
Published by Universal Music Publishing Group, Warner/Chappell Music, Inc., EMI Music Publishing, HEYDAY MEDIA GROUP LLC, Sony/ATV Music Publishing LLC

Lyrics Provided By LyricFind Inc.