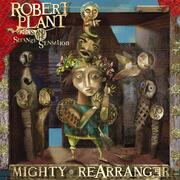 Freedom Fries (2006 Remastered LP Version) (2006 Remastered LP Version)
Robert Plant

The father, son and the three wise men
Operating undercover out in Bethlehem
Will they heal the sick? Can they raise the dead?
Can they bring it on home like the good book says?

Billy the Kid told the Prince of Thieves
A little give and take to satisfy my needs
You can give me lots but I'll take some more
I got my eyes on your treasure beneath the desert floor?

Freedom fries and burns and scars
The liberator goes too far
Freedom fries and screams and yells
The promised land is promised hell

Written by PLANT, ROBERT / ADAMS, JUSTIN / TYSON, LIAM / DEAMER, CLIVE / FULLER, WILLIAM / BAGGOTT, JOHN
Published by Sony/ATV Music Publishing LLC

Lyrics Provided By LyricFind Inc.