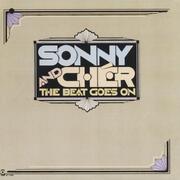 Little Man (LP/Single Version) (LP/Single Version)
Sonny & Cher

Little man, when you stand by my side
Then I know I don't have to hide from anyone
And I pray that we'll stay just that way
Till the day comes along when we catch the sun.

[Chorus]
Little girl you're runnin'
Come catch my hand I'm near you
Little girl you're singin'
Come close to me I hear you
You're growin' old, my mother's cold
Now you've learned what it meant to be mature
There's no such place as make believe
But when I look at your face,
I'm not so sure

[Chorus]

You and me is what I see
And that's the way its gonna stay and it will always be
So little man, please understand
In this world with all its land
You're all I see

[Chorus: x2]

Written by DELONGE, THOMAS / HOPPUS, MARK / BARKER, TRAVIS L.
Published by Universal Music Publishing Group, EMI Music Publishing, Warner/Chappell Music, Inc.

Lyrics Provided By LyricFind Inc.