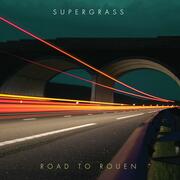 Tales Of Endurance (Parts 4, 5 & 6)
Supergrass

Making sense of what I've heard
And what is on my mind
Well don't look down cos it's far to fall
Oh yeah

Count the hours face the fear
It's all you need these days
We're past the post and through the door

We hail commercial suicide
Kiss the love you leave behind
And let it bother you
Well you do what it takes to get what you can

Last night I thought about her
? love and what I do
It's hanging over me
I'm sure to break your loving heart

I'm down and take a walk down a sugar coated sonified
I've been hanging around for hours
Staring at your holy ground
Ooh

?
I might've known that you'd be tearing up the photographs
Ooh

At sight of all I've done been taken for higher ground
? china dolls and better times
This side of life ?
You know this living hell solid gold coming for no one

Written by GOFFEY, DANIEL/COOMBES, GARETH/QUINN, MICHAEL
Published by EMI Music Publishing

Lyrics Provided By LyricFind Inc.