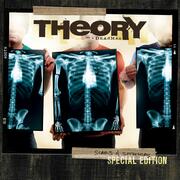 Theory of a Deadman

Here we are
At the end
Say goodbye to all your friends
Here we go watching the sun go 'round
Sitting on a rooftop making time stop
I never wanna come back down, never wanna come down

[Chorus]
It's the end of the summer
It's the end of it all
Those days are gone, it's over now were moving on
It's the end of the summer
But we'll see it all again
So hold on 'till this moment 'till then
It's the end of the summer

Here we stand
In the middle of an empty street
Tell me where you wanna go
I''ll tell you that's where I wanna be
Say goodbye to the warm breeze
We could be almost anywhere
I'll miss you 'till the next time
I hope I see you there
I hope I see you back here.

[Chorus]

It's the end of the summer
End of the summer

Ride's almost over
It's getting colder
Take one last look
Before it passes by, before it passes you by

[Chorus: x2]

Written by CONNOLLY, TYLER PATRICK / BRENNER, DAVID J. / BACK, DEAN HENNING / MALLOY, ZAC
Published by Warner/Chappell Music, Inc., Sony/ATV Music Publishing LLC

Lyrics Provided By LyricFind Inc.