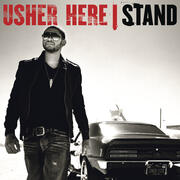 Love You Gently (Main Version) (Main Version)
Usher

First see the city sky lights
Shining from my room
Your such a sight to see
In the month of June
Beautiful like the moons
Reflection when its passing off your skin
And before you let me in I hear you say!

It's been a long time
I say OK k k k
Don't worry I got you
Then you say!
How bout some foreplay
I got that got plenty
I got you
Then you say,
Play some slow whine
Got that Sade, Al Green, and Marvin Gaye to

To love you gently
Let me love you gently

Lay back relax
Girl I'ma be
Light as a feather
Hard as a rock
Cause daddy know just what you like

Gonna love you
Gently
Light as a feather
But hard as a rock

See I know just when to finish
And I know just wen to start
And I be lovin' your reaction
Every time I hit that spot
Gently but it's soft like leather
Gently but the top is hard
Whisper your pleasures
And then do my job

Make it rain intense
Girl let me do what I do
I don't know whats echoing louder
The music or you

Gently I supposed to be done yet
But you gettin' real warm
Like the comin' of thunder
Right after the storm

You say you say
Do you say girl

Gonna push you to the limit
Its yours its yours
See I can place and win the race
I'ma be your number one
To the sunshine

Here comes the sun
Lets try to touch the moon again
Forevermore

Let me touch you
Gently thats the sound of love
Take them shades off the wall
Light as feather
But hard as rock

This might not be in the bedroom
But I'ma love you girl
Gently
Light as a feather
But hard a s rock

Let me touch you,
Gently
Light as a feather
But hard as a rock

Gonna love you,
Gently
Light as a feather
But hard as a rock

Can you feel me girl
Hey!

We don't need no room
All we need is me and you
Want to love you

Written by DAVIS, VIDAL / HARRIS, ANDRE / DE VAUGHN, RAHEEM
Published by Universal Music Publishing Group

Lyrics Provided By LyricFind Inc.