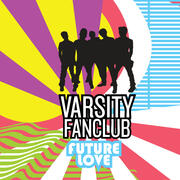 Future Love (Jim Jonsin Remix) (Radio Edit)
Varsity Fanclub

Mm, yeah, oh oh

A couple of years
And I'm gonna know your name
It's like I waited for ya forever
And I know this might sound insane
But it wont be long
'Til we're gonna take this up
I'm talking about our future love

You're so far away
Maybe you're right next door
Got me picturing your face again
Something worth waiting for
I put all the others behind me
They don't live up
Your my fave
You baby just for me

[Chorus]
Baby if they asked me
I would say I don't even know ur name
And if they asked me
Does it change?
No, it don't change a thing
cause there's something about the way you'll love me
There's just something about the way you'll know me
That I cant explain enough
There's just something about our
Future love
Future love
Future love
There's just something about our
Future love
Future love
Future love

Walking hand in hand
Going for a second date
I can picture what you're wearing
I swear I can hardly wait
The thought of all the ways we'll meet for the very first time
I can see the place, feel the love
First sight

[Chorus]

Oh no
The minute u pull up next to me
We standing there like destiny
When it feels like you're fighting
Just to breathe that's when u know
The minute I pull up next to you
Suddenly I don't know what to do
Everything inside you says that I'm the one

[Chorus]

Written by PEREZ, ARMANDO CHRISTIAN / TEDDER, RYAN B. / BOGART, EVAN KIDD / SCHEFFER, JAMES GREGORY
Published by Universal Music Publishing Group, Warner/Chappell Music, Inc., Sony/ATV Music Publishing LLC

Lyrics Provided By LyricFind Inc.