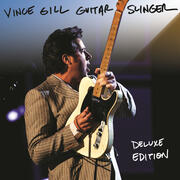 Guitar Slinger (Album Version)
Vince Gill

Well, I'm a funky low-down easy guitar slinger
Big drinker and honky-tonk and western swinger
When it comes to love then I ain't no beginner
I will drive girls crazy with just one finger

Well my daddy said "Son you're just wastin' time
You're never ever gonna make one thin dime"
It wasn't hard for me to see all I was ever gonna be
Was a guitar slinger

Well, I was living the life of a guitar slinger
Womens and wine and whiskey for dinner
Oh, I knew I was in trouble the first time I seen her
I went and married that contemporary Christian singer.
Yes I did

Well now I run for home when it's closing time
I read my Holy Bible and I walk the mile
I can't wait to see what my baby's gonna do to me
A little guitar slinger

Well, there's a few licks left in this guitar slinger
Even though half of my stuff's in the Cumberland River
Well, now all I really need is just one six stringer
Yeah, I might have slowed down a little but buddy, I can still bring her.

Hell I'ma gonna show her when it's party time
See everybody dancin' and we'll feel so fine
If y'all just show up and shift for me I swear I'll play for free
I'll be your guitar slinger
Yeah I'll be your little guitar slinger baby

Written by Gill, Vincent Grant
Published by Kobalt Music Publishing Ltd., Vince Gilbert/Benefit Music/Vinny Mae Music, KOBALT MUSIC PUB AMERICA INC

Lyrics Provided By LyricFind Inc.