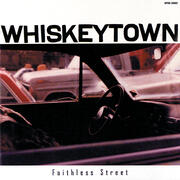 Here's To The Rest Of The World (Album Version (Baseball Park Sessions))
Whiskeytown

I know the world is a mess
I like the patterns on your dress
Would you have a drink with me please
Have a couple or three
I see you walk by
I don't speak but try
Have a drink with me please
Don't say anything
I look like a mess
The patterns of your dress...
They blind me

Here's to the rest of the world
I guess that you deserve something
You work so hard at
Trying to be just like everyone else
Except people like me

Well, the lights shining down onto the street
The city lingers as it overheats
I'm on idle right now
Don't feel so proud
Wait for the others to join the crowd

And they come
Ones
Threes
Here's to the rest of the world
Oh, I don't know
Here's something that you deserve...
A drink or two
Come on and sit down with me
And we'll pretend everything
We'll pretend everything
It's easy.

Written by RYAN ADAMS
Published by BUG MUSIC

Lyrics Provided By LyricFind Inc.