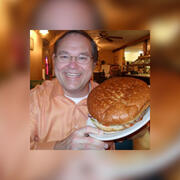 Faith is the answer - Matthew 15:10-28

Jesus was always trying to get folks to understand what faith was and how faith worked. So folks without much education on the subject got the meaning quickly. Others struggled to believe at all. This message is about the discovery of faith. Faith is also an amazing grace once we see it and understand it.

Let's add water to our faith & step out!

Peter reacted when Jesus said don't be afraid it's me on the Sea of Galilee. His impulse was to join Jesus and he did. Because Peter exercised his faith is life would never be the same

Highest Point in Kentucky - Black Mt

Black Mountain is the highest point in the Commonwealth of Kentucky. The unique point is located above Lynch. Ky in Harlan, Ky.

Holy Spirit / Pass it on! Acts 1:1-11

Following the 40 days after the resurrection of Jesus the disciples were thinking the immediate kingdom to come. However Jesus had the disciples think about today and that the Holy Spirit was coming to be with them as an aid & guide.

Saturday talk time w/Devin & Jacob

Saturday night conversation with Devin Tyler Masoner & Jacob Mckissack. It's a three state connection of Alabama, Tennessee & Kentucky. It's a media discussion!

Kendall Noble Western Ky Univ Hazard, Ky

Jon North "The Voice of Union Bulldogs"

Jacob Voges - Clay Greene - Cody Fee

Joshua Smith General Cable Interview

Joshua Brown from Louisville, Ky

Coach Vince Lombardi "11 things"

Interview with Clay Evans Performer

CD Release - Clay Britton Interview

Clay Britton releases his first CD "Junk" in Nashville, Tn. "Junk" has a special meaning to Clay in that he believes God didn't make any "Junk" and we each have special talents and gifts, beside that fact we were created in His image. Clay sings from his heart with passion. Check him out at www.claybritton.me

U.S. Congressman Jim Cooper Veterans Day

Amanda Watkins-All American Country

Sundy Best -Kris Bentley & Nick Jamerson

Chris Stapleton - Singer/Songwriter

Who doesn't know Chris Stapleton. Between 2008-2010 he was the lead singer and guitarist of the critically acclaimed bluegrass band The SteelDrivers. Three Grammy Award nominations including Best Country Performance by a Due or Group with coacals for the song "Where Rainbows Never Die". "Best Bluegrass Album and he won the International Bluegrass Music Association Award for Emerging Artist; He is an established songwriter with four number ones including "Never Wanted Nothing More: recorded by Kenny Chesney, "Loves's Gonna Make it Alright" recorded by George Strait and "Come Back Song" recorded by Darius Rucker. His music is on over 150 albums from such artists as Adele, Tim McGraw, Brad Pais...

The Masoner Brothers from Alabama

Never before have I interviewed three brothers. My Co-Host Devin Tyler Masoner and his older brother John Caleb Masoner and their younger brother Landyn Masoner share insights into what it means to be brothers and they share their personal insights about how to live life. A classic moment on "10 with Tim" and one for the historical archives.

Morris - Thomas - Gregory

Jimmy Huddleston - Alumni President

Stuart Shepherd discusses life & living

Learn about Corn Hole with Eddie Bloomer

PreGame Talk Union College Football

Crickets are perfect for motivation.

Nate Zettler Hall of Fame Interview

Pep Talk Union College Football

As the Union College Campus prepares for Homecoming 2013 Tim is invited to stop by and share a word of encouragement to the Union College Bulldog Football Team. Head Coach Tommy Reid introduces "Preacher" to the team. Tim concludes his talk with his favorite poem and a team prayer.

Nick & Allie Ruggieri - Honeymoon Talk

Joey Waters - Combat Control/Air Force

The Asia Project - meet Asia!

Senior Judge Jeffery Burdette

Children's Reading Foundation

Dr Joshua D Howard "Wisdom & Advice"

Meet Coach Lewis Morris from Log Mnt UC

Labor Day "Eastover Mines" Arjay, Ky

Join me in Celebrating Labor Day 2013 in the Coal Fields of Arjay, Ky. Millions of Tons of Coal have been produced from Eastover Mines since 1938. Meet Billy Garren a miner of 19 yrs who was born in Detroit, Michigan. In Ky thousands left Ky for Detroit and many 2nd generations returned back to the mountains of Southeastern Kentucky.

Ian Drinnon & Brandon Phillips-Travelers

"I have a dream" conversation. Will Zik

Pastor Dan "Walking Across America"

I saw a man walking carrying a cross on the highway. I turned around and went back to ask why? Here is story of where he came from, where he has been, and some of the dangers along the way, plus the blessings of people as he has walked "Across "America" carrying a cross tell the story of God's love for people.

Surprise Birthday Tim H Mills

From Knob Creek-Pres Abraham Lincoln

Introducing t/song "Three States Away"

Interview Jimmy Rose "Coal-Keeps-Lights"

You know him from America's Got Talent. I know him from Dorton Branch in Pineville-Bell County, Kentucky. Meet Jimmy Rose and learn how he made his first trip to New York for the audition. Hear about his work as a Sgt in the US Marine Corp and life in Dorton Branch.

Interview with Jacob Mckissack

Introduction of Devin Tyler Masoner

Devin Tyler Masoner is joining Tim as co-host of "10 with Tim". Devin and Tim are great friends who have a lot of great stories and fun times they have shared together. Devin loves music, he is a singer, song writer and plays the guitar. Here's......DEVIN!

ABC's God can put the words together

Morning Devotion-Bless The Lord Oh my so

Jabez-prayed for no pain

Jabez prayed for God to Bless him and to Enlarge his territory. He also prayed that he didn't want to cause any pain because of his prayer. Considering the prayers we pray have an impact is a reminder that we should always pray for His will to be done.

You are designed to be a blessing

Mashed Potatoes & Train Sounds

A straight forward talk about deciding to make a difference by counting your blessings, naming them one by one and deciding to make some train noise to get over the hump. You will be challenged and encouraged from this very real message about self evaluation and direction.

Morning Devotional 1 Chronicles 4:10

In the Bible we have recorded the Prayer of Jabez. He simply called out to God and asked Him to bless him and to enlarge his territory. You and I have an opportunity to do the same thing. We must begin by seeing the need for change and being dissatisfied with where we are now.

Bench Warmer or Boundary Buster

Jabez asked God to Bless him and to Enlarge his territory. Tim H Mills surveys the attitude we must have and the decisions we must make to be a "Boundary Buster" and not a "Bench Warmer". You will be challenged and inspired from the Prayer of Jabez.

4 Spiritual Laws

The 4 Spiritual Laws are a tool for helping someone discover Jesus Christ. Tim shares about Law #1; Law #2; Law #3; Law #4; He is training a group of students about the techniques and application of the laws.