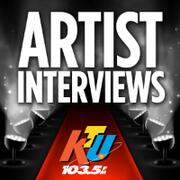 Behind the Lyrics with Ke$ha

Find out what it REALLY means to wake up 'feeling like P. Diddy' and more in Behind the Lyrics with Ke$ha !

Behind the Lyrics with Pitbull

Find out what "with a monkey look like King Kong" and more Pitbull lyrics REALLY mean in Behind the Lyrics with Pitbull!

DJ Afrojack Eats Afrojacks

DJ Afrojack Eat Afrojacks And Explains His Name

Bruno Mars Breaks Bad News

With a voice like that even Bad News can sound good..but don't worry it's not ALL bad!

PSY and Gangnam Style Take Over NYC

PSY's "Gangnam Style" is the hottest video, song and dance in the country right now! Watch us take it to the streets in this KTU.com Exclusive!

Ellie Goulding

Ellie Goulding has taken the music scene by storm since her breakout hit, 'Lights.' She recently stopped in to chat food, songwriting, BF Skrillex and More!

The Wonder Girls

The Wonder Girls are one of the hottest new groups to hit the American pop scene. Their breakout song, 'Like Money' ft. Akon has already gained over 5 million YouTube views in just a month! The girls stopped by to chat their new single, teach us the 'Like Money' dance AND do the new dance craze, Gangnam Style!

Nelly

Nelly Reveals He Wants to Collaborate with Adele, Talks New Music, Michael Jackson and more!

Ne-Yo

Ne-Yo Comes Out Against 'Swag' And Bravely Reveals His Love For Barry Manilow and more!

P!nk

P!nk chat's balancing motherhood, her bite-free dogs and more!

Kylie Minogue Teaches How to Dance!

Kylie Minogue teaches KTU.com to dance and more!

Megan and Liz

Learn more about the upcoming duo!

K'Naan

Learn a little more about K'Naan!