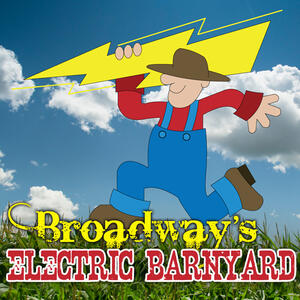 Jerrod Niemann hangs with Garth

"Hey, it's Garth. I need 2 large peperoni pizzas."

Canaan Smith Covers Taylor Swift

Off the Cuff

Sugarland's Kristian Bush

Sugarland secret revealed!

Feel Good Story 8-26-14

The Ice Bucket Challenge has done amazing things!

Canaan Smith Interview

He got in a fight the night of his bachelor party!

Chase Rice Interview

Do female country singers need more sex appeal to succeed?

Maddie & Tae Perform Off the Cuff

They perform "All About That Bass" and "Wiggle"

Did Taylor Swift fire band members?

Ashley from NashvilleGab

Feel Good Story 8-15-14

Even small deeds can change lives

Brett Eldredge Interview

Brett teases his new video!

Maddie & Tae Interview

They respond to FGL's Brian Kelley

RaeLynn Interview

She stopped by Broadway's Electric Barnyard to chitchat

John's List

Who does this?! What a weirdo!

Joey Hyde Performs Sam Smith

He NAILS it!

Should he have removed his hat during the national anthem?

Chemo caused him to lose his hair

Josh Thompson Interview

"I've always known there to be fights and arrests at country concerts."

Justin Moore supports Don Juan

He called to tell Broadway to play the song!

Florida Georgia Line Interview

What is a baby wipe bath? Tyler explains

Don Juan is a hick hop artist

Don Juan by Don Juan

Eli Young Band Interview

Who would EYB want to remix one of their songs?

Hear Garth Brooks new song

The song is titled "Tacoma"

Feel Good Story 7-30-14

She was only short $7, but a stranger decided he would pay for the entire order!

Feel Good Story 7-29-14

Rose has a pretty cool boss!

Colt Ford Interview

Colt tells a hilarious story about Willie Robertson

The Cadillac Three covers Iggy Azalea

Off the Cuff Country!

The Cadillac Three Interview

Broadway pitches an idea that could forever change music!

Toby Keith Interview

He talks TNA, Beer for My Horses sequel, Garth's return, and more!

UPDATE! New Music from Garth Brooks

@WindmillsMusic updates us and speculates

Top Post Race Rants

Which is your fav?

Jason Aldean Interview

Was his meeting with Kenny business or pleasure?

RaeLynn performs Baby Got Back

She helps us with our game "Off the Cuff Country"

Feel Good Story 7-23-14

This is sure to put a smile on your face

The Girlfriend's Dad

Hear the REAL reason he told Peter no

My girlfriend's dad said no! What now?

He can't be telling the truth

Great idea or stealing?

Broadway witnessed something at the gas station

Amy Smart Interview

She tells us about her new movie and gives us some disappointing news about Crank

Willie Robertson Raps

Check out his verse on Colt Ford's new album

Freshen up your playlist

Songs we have on repeat

Bob

Meet Bob, he's silly.

Five Disgusting Things on Your Body Right Now

So gross!

Look who's going country

Do you think they'll make it in country?

Danielle Bradbery Interview

Danielle plays 'Would You Rather'

Angaleena Presley Interview

She dishes on her debut album

Feel Good Story 7-17-14

Gail shares her feel good story

Skreet Smarts with Don Juan

Who was the Civil War between?

Skreet Smarts with Don Juan

Who was the first president?

Feel Good Story 7-16-14

Send yours to broadway@clearchannel.com

New Music from Garth Brooks!!!

Blogger @windmillsmusic gives us inside info on Garth's new music

Eric Roberts Interview

The Academy Award nominee called the show to talk about a couple new movies

Songwriter Cary Barlowe

Find out the website that a lot of writers use when they hit a roadblock

Cory's Big Announcement

Cory's moving time slots!

Country star trashes old school country

What's your interpretation of what he said?

Being the girl in the country song

Ladies, are you offended by the way country music portrays you?

Chase Bryant Interview

Music runs in the family! His granddaddy and uncles are famous!

Courtney Robertson Interview

She tells us how long you should wait before giving it up

Simon Helberg and Wife Jocelyn Towne

They talk about 'I Am I' and of course Big Bang Theory

The Doobie Brothers Interview

They're teaming up with some of country music's biggest stars for countrified versions of their biggest hits.

Mark McGrath talks Sharknado 2

Mark McGrath learns something he didn't know about Sharknado and talks about his role.

Kip Moore clears the air

Country Music star Kip Moore talks about social media rumors and clears the air on a few things!

Treehouse Master Pete Nelson

Imagine having a huge tree house constructed in your back yard! Is there a way to get a free tree house just by getting on the Animal Planet show?

Lacey Chabert on a Mean Girls sequel.

Lacey Chabert talks about a Mean Girls sequel and why she is Maxim Magazines most popular spread ever!

Rick Springfield on music today

So what is Rick Springfield up to now? Does he still seek new music and listen to the radio?

Johnny Cash speaks from beyond the grave

Johnny Cash & Waylon Jennings speak from beyond on things to come.

Parmalee talks #1 records

Parmalee stops by the Barnyard, chats about all of the success they have had and how they got there!

Rascal Flatts - How do they measure success

Rascall Flatts addresses break up rumors and the rough road they have had in the music industry.

Florida Georgia Line on their new album

How does FGL follow up their first album? Catch up with the duo and see what they have to say about all their success so far!

Hunter Hayes on his new album

What is the most personal song on Hunter's new album? What does he worry about when cutting a new album?