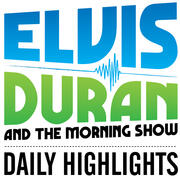 NSFW: Valentine's Day Passion Party

Dr. Sadie from ticklekitty.com stopped by to demonstrate some of her sexy toys and techniques!

Listener Harry Lost His Finger

Listen to Harry's weird story about how he cut off his finger!

Is Facial Hair Cool or Creepy?

The Morning Show lists the pros and cons of having a beard or mustache!

Would You Get Infected with the Flu for $3,000?

Would you let a scientific study infect you with Swine Flu for $3,000?

Sex In the Dressing Room

Carla Marie wants to know why boy aren't allowed in the "Ladies Dressing Room"!

Gross Things AND Happy Things About Giving Birth

The Morning Show discusses how the miracle of birth can be both gross and amazing.

Inviting Girls to the Club...

Skeery bitches about some girls he invited to the club that brought their GUY FRIENDS along!

Greg T's EXPENSIVE Bathroom Spray

Greg T decided to use his Wife's perfume for bathroom spray! Good idea... or no?

The Newlywed Game: Elvis and his boyfriend Alex

Elvis and his boyfriend Alex take the test and step up to "The Newlywed Game" plate!

Fake Boyfriend for Thanksgiving

Have you ever faked having a boyfriend or a girlfriend to get your family off your back?

Dating Someone with a "Bad Name"

Are there certain names that you "can't" date?

Crazy, Slut or Bitch

Would you rather be called crazy, a slut or a bitch?

Friday Ends at 2pm

Does anyone ever really do work at the office after 2pm on a Friday?

Things You Think About It, But Don't Say

We discussed the things you are always thinking, but too afraid to say!

Sometimes It's Good to Have a Big Butt

Despite what women may think, having a BIG BUTT can be a good thing!

Straight Nate Just Wants to Fight

Nate is in the mood to get in a fist fight. Is he alone in this craving?