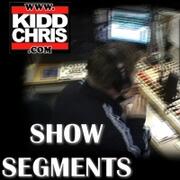 The Johnny Five Show - 05.02.2014

The Muscle Machine hosts his own talk show for the first time! Follow Johnny on Twitter @JohnnyFive513

KiddChris - Nick Cannon

Nick Cannon talks with KiddChris about his relationship with Mariah Carey.

KiddChris - Alexis Ford

Adult Film Actress promotes her website in a sexy creative way. (NSFW)

KiddChris - Teagan Presley

Adult Film Star Teagan Presley is mad that KiddChris tried to FaceTime with her.

KiddChris - Ace Frehley

Ace talks about groupie sex, his fiancé, and the REAL story about no longer being in KISS.

KiddChris - Tommy Davidson VS Mary Carey

Adult Film star Mary Carey threw some heat at Comic Tommy Davidson claiming that he had pleasured himself on video and sent it to her among other things. He answers those charges.

KiddChris - Sully VS WWE and Nikki Sixx

Sully from Godsmack give his thoughts about pro-wrestling and his tension with Nikki Sixx.

KiddChris - Paul Heyman WWE

Paul Heyman talks Brock Lesnar, CM Punk, and how to be a GOOD heel!

KiddChris - Richard Patrick of Filter

Talked w/ Richard Patrick of FILTER about his Nine Inch Nails days, his family, and his take on songs about suicide and the death of Robin Williams.

KiddChris - Dice talks his Bad Back!

KiddChris hurt his back over the weekend and Andrew Dice Clay calls in to discuss it.

KiddChris - Breuer disses Tracy Morgan

Jim Breuer brings some heat on on Tracy Morgan.

KiddChris - Nikki Bella

WWE Diva chats about her relationship with John Cena, her thoughts about his ex-wife, and how far she would go sexually to stop world hunger!

KiddChris - Gilbert Gotfriend

KiddChris - Norm MacDonald

Norm calls in for what turns out to be a GREAT moment in radio history!

KiddChris - Phil Collen/Def Leppard

Def Leppard guitarist chat about life on the road and being ripped off by boy bands.

KiddChris - Zakk Wylde

The guitar God tells us what female celeb he would let use a strap-on on him!

KiddChris - John Mark Karr

JMK feels that pedophiles should be castrated to eliminate the "demon" inside them. JMK explains how it works because HE has had this surgery.

KiddChris - Gary Shandling

KiddChris - Steve Byrne

Steve chats about getting girls back in the day, cheesy 80's TV movies, and 1 particular movie that was shocking!

KiddChris - Darius Rucker

This Rock and Country singer owns a Ric Flair robe and is a HUGE 'rassling fan!

KiddChris - Chris Titus

Comedian Chris Titus talks about his awful childhood. His Mom's suicide, and his Dad's playa ways. Dark stuff.

KiddChris - The Friday Phoney Guest 02

"Dr Kevin Bellblue" pitches his idea for a new law. Prop 21/30. Women who have kids before 21 or after 30 can't claim their kids as dependents AND have to pay fines.

KiddChris - Tony Soprano from Heaven

It's the 1yr anniversary of the death of James Gandofini. James calls into the Heaven Phone to check in.

KiddChris - Constaintine 2 What up Wed!

Slow adult Connie sprinkles his gold on the radio for "WHAT'S UP WEDNESDAY"!

KiddChris - Thomas is going to be Daddy

Kidd Show sidekick Thomas is expecting!

KiddChris - Patrick Moot "Un-Hung Hero"

Patrick is cursed with a small one. He made a movie about his trek to be larger.

KiddChris - Jeff banged Alyssa Milano?

Jeff Turner claims that he has had a relationship with Alyssa Milano for MANY years and also claims that Alyssa has tried to have him assassinated!

KiddChris - JBL

JBL from the WWE talks grappling and shares some great road stories.

KiddChris - Constaintine 2 For Tuesday!

Slow Adult Connie celebrates 2 for Tues with some hilarity!

KiddChris - Alexis Ford gets it on?!

Adult Film star Alexis Ford decides to get it on with her man during her chat with KiddChris!

KiddChris - Jean Kasem

Jean Kasem calls in to clear up the chaos surrounding her husband, Casey Kasem.

KiddChris - Oj Simpson Prank Montage

KiddChris pranks OJ Simpson - 1999

KiddChris - Patrick Favres

Patrick asked out Miss America to the promo and got suspended form school!?

KiddChris - Wolfpack vs radio host

The Wolfpack causes a radio host to LOOSE HIS MIND!

KiddChris - Tracy Morgan

Tracy Morgan is not interested... HA HA!

The Johnny Five Show - 05.02.2014

Johnny Five The Muscle Machine host his FIRST radio show!

KiddChris - Sebastion Bach

Sebastion Bach seems to be bummed that he's only hosting the roast of Corey Taylor at Rock on the Range, and NOT performing.

KiddChris - Jerry Springer

Jerry Springer talks about launching his career at WEBN

KiddChris - Dusty Rhodes VS Horseman

Dusty Rhodes played by Meat

KiddChris - Dusty Rhodes calls Ric Flair

Dusty Rhodes is played by Meat.

KiddChris - Corey Taylor

Corey shares his fears about being Roasted on May 15th and also gets deep about his bouts with depression and suicide.

KiddChris - "Diamond David Lee Roth"

DLR stops by to visit with The KiddChris Show.

KiddChris - Bubba Smith FEARS sharks!

Football legend and Police Academy star Bubba Smith explains why he won't swim in the ocean or his POOL!

KiddChris - Gene Simmons from KISS

Has Gene Simmons gone too far whoring out KISS merch?

KiddChris - Garden shears in his eye!?

Leroy Lewster fell on his garden shears and they went in his eye!? WTF!?!?!?

KiddChris - WWE Superstar Randy Orton

Randy talks about his home life and shares stories about some crazy neighbors he has.

KiddChris - Angry Chubby Checker

Chubby Checker is mad and he wants his own statue at the Rock n' Roll Hall of Fame.

KiddChris - Henry was ripped off

This guy Henry was ripped off playing games at the Fair. He deserved it.

KiddChris - Not Peyton Manning

We call not Peyton Manning and he gives us this thoughts on the Superbowl.

KiddChris - Aaron Lewis

Aaron Lewis calls us from home and talks about his family life and fighting with his wife.

KiddChris - Corey Feldman orgy??

Lila Whitney went to a Corey Feldman party and an ORGY broke out!

KiddChris - Rick Dyer killed Big Foot

Rick sez he shot and killed a big foot in Texas.

KiddChris - Eddie Money VS Kenny Loggins

Eddie Money explains why he would like to knock out Kenny Loggins.

KiddChris - Marey Carey

Adult film star plays "Meet the Parents". A listener introduces his new GF Marey Carey to his Mom.

KiddChris - Serena meets Stone Cold

A listeners name Serena is a HUGE Stone Cold fan, so we let her talk to her hero! (Stone Cold played by KiddChris)

KiddChris - Jonathan Davis

Jonathan Davis is a cool mutha fu*ker.

KiddChris - Sex With Dolphins

This guy has sex with dolphins. nice.

KiddChris - Howard Stern

Radio icon Howard Stern visits.

KiddChris - Gary Busey stops by

Gary Busy comes by and stuns the world!

KiddChris - Marty and Tracy

Voice of the Reds Marty Brennaman and former Reds player Tracy Jones hang out for a CLASSIC segment.

KiddChris - Johnny Five answers YOUR ?'s

Johnny Five the Slow Adult Wrestler give you his advice.

KiddChris - Reds Player Brandon Phillips

Brandon talks about hooking up with crazy "debbies"

KiddChris - The Friday Phoney Guest

We told the audience a WHOLE WEEK IN ADVANCE that this guest was fake. These woman STILL fell for it.