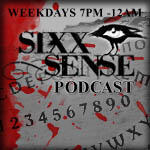 Bad Jobs & Career Low

Nikki and Jenn share some of the worst jobs they've ever had, including Nikki's stint installing irrigation pipes, and the time he wound up on the set of a porno.

Do You Find Yourself Attractive?

There was a while when Nikki didn't like what he saw when he looked into a mirror. He'll reveal the moment when he realized that he didn't find himself attractive.

Middle Initials Make You Smarter

Researchers say if you want to come off as a smarter person, start using your middle initial. But what if you're Nikki and you don't have a middle name?

Nikki's Very 1st Record

Nikki shares the story about the very first record he ever bought. You may be surprised with what he bought, but you probably won't be surprised with why he bought it.

Hickeys Can Kill

Just when you thought it was safe to make out... Nikki and Jenn have discovered that Hickeys can be deadly! Find out all the trouble they can cause.

When Nikki Met Nilsson

Nikki shares the story about meeting the iconic Harry Nilsson and what Harry said that made him laugh during their first encounter.

Nikki Responds to Michael Sweet Criticism

Nikki explains the scary reality of addiction and drug abuse after Stryper's Michael Sweet made some biting comments about Nikki's book "The Heroin Diaries."

Jenn's Problem with Avril Lavigne

Jenn says that Avril lied about her pregnancy.

Is Nikki a Metal Dad?

Jenn has a quiz for Nikki to find out if he's a heavy metal dad.

Godsmack Wants on the Show

Nikki found it pretty amusing that Godsmack would ask to be on Sixx Sense after the band trashed him in a song. He had a few things to say about burning bridges.

Strange Places for Sex

Nikki and Jenn share their strangest sex stories, including hook-ups involving coffins and convertibles.

Why Doesn't Nikki Sing?

You won't be hearing Nikki sing on an album anytime soon, but if you do, Nikki wants you to do something with the record.

Surviving a Crash Landing

Jenn comes clean about why she's so afraid of flying and how she made it through a crash landing during the worst flight of her life.

Spooning is Good For You

New Research says spooning is good for your relationship. Nikki reveals how he turns spooning into forking.

Off Switch For Your Brain

Scientists have discovered a type of on/off switch for your brain. Nikki and Jenn have discovered some off-the-wall ways to use it.

Don't Press Pause

Family Movie night gets awkward when Nikki presses pause at the wrong time.

Craig Gas Highlights

We had on Craig Gas and talked some serious talk and then brought on a heavy dose of laugh. Gene Simmons, Lars and Tracy Morgan get in on the fun!!

The Kim K Debate

Nikki wants to know why the hate or love for Kim Kardashian. We also take some of your calls to break down the matter further.

Overly Used Phrases

Ever get tired of the same old phrases we all say way too much. We do too.

Growing Organs in a Lab

Scientists may have done something that could be brilliant or completely against nature in regards to the vagina.

What is Formicophilia?

There seems to be a fetish for everything and wait till you hear about this one. . .

The Gold Dust Woman

The Film Wolf on Wallstreet Reminds Nikki of a story involving Stevie Nicks in the past.

Your Favorite Body Part.

We took your calls and asked you what your favorite body parts are and boy did you guys respond!!!

The Bee Sting from Hell

A man did research to discover the worst place to get a bee sting but according to Nikki, he already knows the worst place.

Jenn VS Chad Kroeger

Jenn took a stand for the people against the machine known as Chad Kroeger of everbody's favorite band, Nickelback. . .

Sarah Jessica Parker. . .

You just have to listen . . .

Stuff Men Do

That you women may not know.

Nikki Embarrases Courtney

Nikki tells a funny tale about being on a date with his wife recently.

Being Single Sucks

They say life is a much better place being married than being single.

The Queenly Miranda Kerr

The Lovely Miranda Kerr has come out as a player for both "Teams."

Elderly STDs

Contrary to what you may believe, it seems our sex lives get freakier with age.

What's a Winter Soldier??

Nikki Sixx talked about movies coming out last week which leads to one of our editors schooling him Captain America.

Nikki Gets "THE" Physical

Nikki tells tale of his experience getting the physical that most men dread in their lifetimes.

Who IS Jenn

Here's the debut of Jenn and she tells us a little bit about herself.

Nikki's Vacation

Nikki tells his tale about vacationing in bora bora and the myths that came with it.

Rules of the Road

Now that Jenn is part of the family Nikki breaks down some ground rules of the bus when it comes time for the tour.

Kerri Kasem's Kurtain Kall

Our last moments before Kasem takes a bow.

Sentimental Vibrator Commercials

A vibrator hits on all cylinders crossing the line in a wrong, weird yet special way in order to sell its product.

Lose a Bet, Lose your Name.

Sometimes in life you're better off not making the bets that cause drastic changes to who you are.

Orgasm Button

They say a new surgery could make the good times come at an instant. . . is this a good idea?

Signs You're Too Attached to Your Car

Some people treat their car as a family member or even a child we have a couple of signs that my say you fit this description.

Rich and Crippled or Poor and Healthy

The Choice is yours.

7 Million Dollar Score

A family is busted for stealing 7 Million Dollars worth in merch and Nikki and Kerri share moments in their lives when they did the same.

Giving Credit Where its Due

Many other show business professions give credit to all people involved but that doesn't seem to happen in the music biz and somebody may be looking to change that.

Nikki Sixx in Rolling Stone Mag

Nikki Sixx has a section in the March issue of Rolling Stone so pick up a copy and read up on songs he was influenced by. Yes unfortunately Beiber's on the cover.

Man Rules in Relationships

There are times in relationships where often times women make things more difficult than they have to be.

Nikki Sixx Attacks!!!

Nikki has a problem with somebody hanging around his property and goes on the offensive. . .