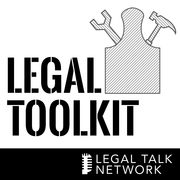 Why It's Important for Lawyers to Build Expertise and Stand Out From A Crowd

In this increasingly saturated market, being a successful lawyer means standing out from the crowd and becoming the expert in a specific field. Due to economic pressures, it is now necessary for a lawyer to develop a powerful brand in order to make a good living. This means going above and beyond being a hard worker and a self-aware lawyer. Additional research in the field, networking, and self-promotion to garner awareness are all necessary actions required to thrive in the legal community. In this episode of The Legal Toolkit, Jared Correia interviews internationally established marketing strategy consultant, Dorie Clark, about why it is important for lawyers to become subject matter exper...

Top New Legal Technology Products of 2014

It is important for lawyers to keep up with the newest pieces of technology. Software and products are constantly improving and it can be incredibly beneficial for a firm to switch to a new system. These new software packages can save time for lawyers who are then able to focus on new clients or marketing rather than busywork that can be automated. TechnoLawyer is a network of free legal newsletters that keeps lawyers and legal administrators up to date with the newest technology in the field. Every year, TechnoLawyer's newsletter, TL Newswire, surveys and prints the 25 most popular new products and services for law firms. On this episode of The Legal Toolkit, host Heidi Alexander interviews...

Law Firm Marketing Tips: What Small Firms Can Adopt From Large Firms

Many large law firms are embracing modern marketing strategies to be more competitive. Although some of the options are out of budget for smaller firms, there are many within reach. On this episode of Legal Toolkit, host Jared Correia interviews Jennifer O'Leary Cathell from Edwards Wildman Palmer LLP. Together, they discuss what marketing paradigms and strategies small firms can adopt from the big firms. Whether your firm is in need of a new website or new look, there are many obtainable objectives to explore. Tune in to learn more about design by committee, relevant metrics, and when to hire outside consultants. Jennifer O'Leary Cathell is the eMarketing, Design and Brand Manager at Edward...

Email Marketing for Attorneys

Many attorneys believe email is the most effective form of marketing communication because of list segmentation, custom content ability, and reach into mobile devices. On this episode Legal Toolkit, host Heidi Alexander is joined by email marketing expert Heather Jackson from Constant Contact. Together, they discuss the advantages of using email for marketing as well as the do's and don'ts associated with this type of outreach. Furthermore, we discover better practices for content creation and the importance of being consistent. Tune in to learn more about beating the spam filters, writing proper subject lines, and recommended frequency of message. Heather Jackson is the Regional Development...

Managing Overflow Work with Freelance Attorneys

When overwhelmed with work, some firms hire freelance attorneys to fill the gap between client demand and firm capacity. Whether it's niche expertise, transactional labor, or long-term temp. assignments, these contract attorneys are well-equipped to support the unique interests of their hiring firms. On this episode of Legal Toolkit, host Jared Correia interviews talent placement experts Leila Kanani from Intermix Legal Group and Gil Schipani from Tempus Fugit Law to learn more about the benefits of freelance attorney placement. Kanani discusses how firms who hire freelance attorneys benefit from improved workflow and enhanced expertise without the need to hire a permanent associate. Tune in...

Evernote's Power of Collaboration, Storage, and OCR for Attorneys

Many people know Evernote as Cloud based storage for documents, but some might be surprised that it can be used in collaborative environments as well. With its advanced search functions, storage options, share features, and OCR ability, Evernote is becoming a friend to law offices everywhere. On this episode of Legal Toolkit, host Heidi Alexander is joined by tech expert Katie Floyd. Together, they discuss how to maximize your legal practice using Evernote. Katie Floyd is a litigator and the co-creator and host of the Mac Power Users Podcast. She is a regular speaker at Macworld Expo and contributor for ScreenCastsOnline Monthly Magazine. Katie also serves as the President of her local Macin...

Automated Document Generation: It's Not Just for the Big Firms

How much time does your law firm or practice spend producing documents? Automated Document Generation can dramatically reduce that time while improving work product quality. Large firms have been doing this for many years but did you know there is a solution for small and mid-size firms? In this edition of Legal Toolkit, host Jared Correia discusses the benefits of Automated Document Generation with Lowell Stewart of HotDocs. Stewart is the Chief Technology Officer for HotDocs and has been developing commercial software for 12 years. He has over 20 years of programming experience with a background in Computer Science. His specialty is designing consistent, intuitive, and usable systems based...

Rising Up: How "Large Enough" Law Firms are Winning the Market Share

In this edition of Legal Toolkit, co-hosts Jared Correia and Heidi Alexander invite members of the LexisNexis team to discuss their latest report, Enterprise Legal Management Trend Reports, 2013 Mid-Year Edition: The Rise of "Large-Enough" Law Firms. The report concluded that the nation's largest law firms are losing the market share to smaller rivals, referred to as the "large-enough" law firms. Correia and Alexander speak to Kris Satkunas and Mike Haysley of LexisNexis CounselLink to further define the results regarding law-firm size, economic breakdown, and how all law firms can use this information to their advantage. Director of Strategic Consulting Satkunas leads the CounselLink team i...

MILOfest: A Conference for Mac-User Attorneys

MILO, short for Macs in the Law Office, started as a listserv for attorneys using Apple products in their law practices. Since it's inception, the interest has increased to support MILOfest: a conference centered around how to use Apple products to benefit law practice. In this edition of Legal Toolkit, host Heidi Alexander invites the founder of MILOfest, Victor Medina, to discuss the goals and benefits of his unique conference, how it's growing, and what to look forward to for MILOfest 2014. Medina is an estate planning attorney in New Jersey. In addition to being the managing member of his practice, he is also an avid contributor to the MILO listserv.

Social Media E-Discovery: Keeping On and Keeping Up

Social media data presents significant challenges for lawyers when it comes to issues of investigation, preservation and discovery. Nonsense words, arcane acronyms and unexpected abbreviations are just some of the things that attorneys need to look for in order to effectively discover evidence via social media. In this edition of The Legal Toolkit, your host, Jared Correia, invites Trent Livingston to discuss the challenges of sourcing social media evidence, the differences between public data, private data, metadata, and more. Trent Livingston is a director with Intelligent Discovery Solutions, Inc., and advises law firms and corporations surrounding the implementation and use of e-discover...

The Home Office: Setting it Up, Making it Work, and Managing Work/Life Demands

Office space is becoming less common as lawyers and entrepreneurs experiment with communal work spaces and home offices. "It comes down to time, money, and family," Kelli Proia, aka the Stay@Home Attorney, said. When she began her practice, she was working part time and raising a family, and renting office space wasn't practical. Now that she has mastered the ways of a stay at home attorney, she works from home full time. Proia spent her first eight years out of law school working as in-house intellectual property counsel at high-tech companies. When her daughter was born, she left the office ready to be a full-time mom. Missing her career, while enjoying every moment with her newborn, she s...

The Legal Marketplace Evolution

On this episode of The Legal Toolkit, your host, Jared Correia, invites Jordan Furlong to discuss how the legal marketplace is changing and how law firms can react. "In the short term," Furlong begins, "we're going to see a lot more regulatory reform ending in a small set of really advanced legal services, exclusive to lawyers." Jordan goes on to prognosticate respecting the specific effects that changes will have upon solo and small firm attorneys, law students and law schools. Despite the disruptive change that will continue to take place in the practice of law, Jordan does, in the long term, see the light at the end of the tunnel for the redefined attorney. Jordan Furlong is a lawyer, spe...

Innovations in Legal Technology: The Changing Landscape and How to Keep Up.

Adam Ziegler was a practicing attorney for ten years when he decided to leave his partnership at a Boston litigation boutique and become an entrepreneur. He is now co-founder and CEO of Mootus, a platform for open, online-legal argument. Lawyers and law students can open up legal discussion questions to their peers, who must provide the sources they use to validate their responses. "I always wanted something to exist like Mootus," Ziegler said, "Since it didn't, I figured I had to try." Mootus was a success, and the driving force behind his pursuit in advancing legal technology. • Adam Ziegler began his career as a law clerk for a judge on the U.S. Court of Appeals. He practiced at two large...

Virtual Staffing: Implementation and Management

On this edition of The Legal Toolkit, host Jared Correia talks with Chad Burton about how to use virtual staff in your law practice. Burton's law firm employs virtual staffing services to manage its phones, accounting, documents and secure email. Chad covers the use of virtual staff to assist in other areas, as well, including: managing social media channels, making travel arrangements, creating presentations, and more. Burton is the founder of Burton Law, a virtual law firm which focuses on representing businesses and individuals in litigation matters. He also serves as outside general counsel to small and mid-sized businesses, including new and existing franchises. He is a leading member o...

Competitive Branding and Website Development for Lawyers

Clients have an abundance of options when hiring an attorney. Often, it is a firm's website that determines who they ultimately hire. On this episode of The Legal Toolkit, hosts Jared Correia and Heidi Alexander talk to Jeff Lantz about building an Internet brand and website that differentiates you from your competitors and attracts clients. Jeff Lantz is the founder and CEO of Esquire Interactive. His company is an attorney-run marketing firm that specializes in website development, Internet marketing, and branding for law firms and attorneys. Lantz was a practicing attorney for more than 12 years before he delved into Internet marketing. He has authored two books: The Essential Attorney Ha...

Desktop as a Service for Lawyers

Desktop as a service, commonly known as DaaS, is a relatively new service which provides users access to their desktops from any computer via the cloud. Your hosts Jared Correia and Heidi Alexander invited Tom Rowe to talk about DaaS for lawyers. Rowe is a 4th generation attorney with an undergraduate degree in computer science and business administration. He now works as a technology consultant for law firms and businesses at OTB-Consulting and was named Technolawyer's technology consultant of the year. Rowe answers questions about DaaS for big, small, and solo firms, how to make DaaS secure, how to make it cost effective, and more. He will also talk about SaaS, software as a service, as it...

The Legal Toolkit is Back

Wondering where The Legal Toolkit has been for the past six months? Never fear, Jared Correia, your host and a Senior Law Practice Advisor with Massachusetts Law Office Management Assistance Program ( Mass. LOMAP), is back. In this month's episode meet the new co-host Heidi Alexander, also a Law Practice Advisor with Mass. LOMAP, who will be the newest addition to The Legal Toolkit team. Before joining LOMAP, Alexander ran a solo law practice and a web consulting business. She has practiced employment law and litigation, clerked for a justice on the highest court of New Jersey, and worked helping entrepreneurs launch and grow their businesses at a nonprofit women's business assistance center...

Choosing a Law Firm Entity Structure

On this October edition of The Legal Toolkit, Jared Correia, Senior Law Practice Advisor with Mass. LOMAP, joins Chiara LaPlume, principal of LaPlume Law, LLC and Sofia Lingos, principal of Lingos Law, to address entity choice for lawyers and law firms. Chiara and Sofia run down the options for law firms and solo lawyers (including d/b/a's and limited liability entities), talk about why it's essential to have a partnership agreement and relay why it may useful for an attorney to hire another lawyer to help them get incorporated.