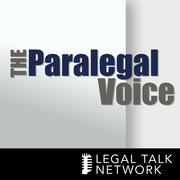 What Paralegals Need to Know About Information Governance, Social Media, and Data Security

Technology has changed the world of law firms and businesses, affecting the way lawyers are required to retrieve, record, and archive information. Instead of communicating entirely by email or phone, professionals are now also exchanging valuable information by instant message, collaboration systems, or social media. It is important for paralegals to understand the ways in which this data is stored and maintained as it can often result in expensive lawsuits. On this episode of The Paralegal Voice, Vicki Voisin interviews social business management expert Doug Kaminski about data recovery, ediscovery, regulatory requirements, and archiving information that is exchanged through new forms of co...

Attorney L. Lin Wood on Representing the Ramseys and Other High-Profile Individuals

John and Patsy Ramsey, Richard Jewell, and Gary Condit are names everyone has heard as they were all on trial in the court of public opinion. These cases were spread throughout the media and, even though there was never an arrest made in any, the public had judged the accused. L. Lin Wood was the lawyer representing these individuals as they fought for their reputations. An expert in First Amendment litigation and management of the media in high-profile cases, Wood has been referred to as "the attorney for the damned." On this episode of The Paralegal Voice, Vicki Voisin has the opportunity to interview L. Lin Wood about the benefits and difficulties in representing high-profile individuals ...

Paralegals: What If Your Client Claims Innocence?

Despite US notions of innocence until proven guilty beyond a reasonable doubt, many innocent people have been sent to prison for lengthy to life sentences. Common reasons for these wrongful convictions are faulty eyewitness accounts, use of "junk" science as evidence, and informants with conflicts of interest. On this episode of The Paralegal Voice, host Vicki Voisin interviews Professor Marla Mitchell-Cichon from the Cooley Innocence Project at the Thomas M. Cooley Law School. Together they discuss the Innocence Project and the Post Conviction DNA Testing Statutes that opened the door for exoneration of the innocent around the country. Furthermore, we discover how the convicted innocent hav...

The Limited License Legal Technician: Washington State's Paralegal Law Practice

In reaction to rising legal costs and decreased access to legal services, Washington State has authorized paralegals to practice law on a limited basis through its new Limited License Legal Technician (LLLT) program. Soon paralegals will be able to practice in specific areas of law. To learn more about this developing field, tune into this episode of the Paralegal Voice, where host Vicki Voisin interviews NALA President Ann Atkinson, ACP, as well as attorneys Steve Crossland and Thea Jennings of the Washington State Bar Association. Together, they review the licensing, permissible scope of practice, and continuing education requirements for these new LLLT Paralegals. Ann Atkinson is the curr...

How to Manage Your Paralegal Career in Today's Economy

Today's economy can be challenging for paralegals. Make sure you're taking the right steps to advance your career. On this episode of the Paralegal Voice, host Vicki Voisin interviews future President of NALS Karen McElroy. Together they discuss what you should be doing as a paralegal to get ahead and stay ahead in this job market. Karen McElroy will become the President of NALS at the end of February 2014. She has been working in law since 1981 in a multitude of capacities including legal secretary, legal assistant, and paralegal. Karen is a veteran of the U.S. Air Force and Ohio Air National Guard. Special thanks to our sponsor, NALA.

Public Speaking: Conquer Your Fears, Deliver Your Message, and Change Lives

"Say something to make them put down their salad fork," public speaking coach Deb Sofield said. The window of opportunity to engage an audience is small, and your introduction is a key factor in success. In this episode of The Paralegal Voice, Paralegal Mentor Vicki Voisin hosts a lively discussion with Sofield covering public speaking basics, how to conquer fears of public speaking, and general standards to advance your career and daily life. Sofield is a public speaker, author, and coach. Her goal is help her clients find their voice and deliver their message so that is is impactful and it is heard. She frequently presents on the basics of how to succeed in public speaking worldwide. Speci...

The Soft Skills Every Paralegal Needs

Hard skills can be taught in school – things like speaking a foreign language, earning a degree or certificate, or the ability to type efficiently. Soft skills are more complicated to master. Examples of soft skills are critical thinking, problem solving, communication, and flexibility. A valedictorian may lack a necessary soft skill for a role, and this could be the deciding factor of hiring someone else. In this edition of The Paralegal Voice, host Vicki Voisin invites Ann L. Atkinson, ACP and Elizabeth H. Nellis, ACP to discuss the necessary soft skills and specific programs where paralegals can learn them. Atkinson is the president of the National Association of Legal Assistants (NALA). ...

How to Unearth Your Worth: Chat with a Career Transformation Coach

After 15 years working in different offices and positions, Lori Howard decided she was burnt out and her career needed a major fix. She discovered her passion is career transformation – helping those who are unhappy with their careers start fresh and find a job where they want to go to work in the morning. In this edition of Paralegal Voice, Vicki Voisin invites Howard to outline the key tips of a career transformation covering the job search, resume, and interview. Howard also provides free instant access to the resources on her site for Paralegal Voice listeners! Lori Howard is the founder of Unearth Your Worth. She is a Career Transformation Coach, Certified Story Coach, and Certified Pro...

Top Apps for Paralegals

On this edition of The Paralegal Voice, Vicki Voisin invites Kathy Miller, ACP, CAS and Karen Trumpower, ACP to discuss legal apps for paralegals. Miller and Trumpower presented 90 Apps in 90 Minutes at the NALA Convention in July and have done the research and tests to determine the best apps for successful paralegals. The app experts break down and organize their top apps into seven categories: fax/scan, publications, research, note-taking, PDF and PDF-signature, security, games, and miscellaneous. They also take into account the platforms each app is compatible with (iOS vs. Android) and price. Tune in to hear what Miller and Trumpower consider the best apps for paralegals, how to use the...

Paralegal Proofreading Tips

In this episode of The Paralegal Voice, Paralegal Mentor Vicki Voisin chats with Kathy Sieckman about the importance of proofreading and specific proofreading tips for paralegals. Kathy Albrecht Sieckman, PLS, PP, ACP developed an interest in proofreading when she sat for a certification exam. Since then she has become known by her family and her co-workers as the go-to person when they have grammar questions. She has worked as a paralegal and a secretary for more than 30 years, where she can apply her extra curricular interest in grammar – You'll find tips on her blog: www.proofthatblog.com. She is also the marketing director for NALS. Learn from the experts: Voisin and Sieckman discuss why...

Paralegal Writing Skills

Fine tuned writing skills are pivotal to a firm's success. They affect first impressions through websites, newsletters, client leads, emails or network listings, client representation, legal write ups, and the list goes on. On this edition of The Paralegal Voice, host and paralegal mentor, Vicki Voisin will speak with noted legal writing educator Gary Kinder to discuss how paralegals can improve their writing skills. Kinder is a lawyer and New York Times bestselling author. He has taught over 1,000 writing programs to prestigious law firms nationwide. His career is dedicated to teaching legal professionals how to write precisely, vividly, concisely and memorably. Kinder channeled years of ex...

Paralegals Are Key in Witness Preparation

Katherine James was getting her masters in acting when her mentor was called to jury duty. The stories he had after his experience in court inspired her to open ACT of Communication: Consultants in the Art of Advocacy. The organization brings state-of-the-art communication skills to attorneys and their witnesses. James uses what she learned in acting school, like the importance of eye contact and clear communication, to prep attorneys and witnesses for the courtroom. With more than 30 years of experience, she has helped take more than 15,000 cases to trial. On this edition of The Paralegal Voice host Vicki Voisin talks with James about her career in witness preparation and the importance of ...

Paralegal Hiring Trends

On this episode of The Paralegal Voice Charles Volkert, executive director of Robert Half Legal, joins host Vicki Voisin to discuss the future of the paralegal profession, how it's changing, and specific steps you can take to land your dream job. Charles Volkert is executive director for Robert Half Legal and co-managing director of Robert Half Legal eDiscovery Services. Robert Half Legal is the premier provider of highly skilled legal professionals for law firms and corporate legal departments; it also offers legal project management and managed review services. Volkert is a noted author, speaker, and former litigator. Volkert provides valuable advice on how to get noticed in the field, inc...

Maneuvering Your Paralegal Career from Start to Finish

On the April edition of The Paralegal Voice Vicki Voisin hosts Charlsye Smith Diaz, a professor of technical writing at The University of Maine, who got her start as a paralegal. Diaz and Voisin met through The National Association of Legal Assistants (NALA) and there they decided to co-author a book, The Professional Paralegal: A Guide to Finding a Job and Career Success. The book was written with both beginning and experienced paralegals in mind. In this episode of The Paralegal Voice, Voisin and Diaz discuss the different phases of a paralegal career, including writing and interview tips, what to do when you get a job, how to organize your workspace and your time, as well as the steps to ...

Communicating with Clients

On The Paralegal Voice host Vicki Voisin welcomes guest Beverly Michaelis, president of Oregon Law Practice Management, to talk about the changes in lawyer-client communication since the Internet, and how lawyers can best communicate with their clients. Michaelis is a member of the Oregon Trial Lawyers Association, Oregon State Bar, and American Bar Association. She also has more than experience in the legal field as a lawyer and legal assistant.

Surviving the Workplace Transition – Tips from NALA

On this edition of The Paralegal Voice, co-host Vicki Voisin welcomes Elizabeth H. Nellis, ACP and Beverly A. Pace, ACP from NALA to discuss tips for transitioning into the legal workplace and how to survive once you are there. Is what you are wearing working against your chance at a job? Listen in as they go over common first-day mistakes and pitfalls you can avoid.

Paralegal Career Opportunities in Litigation Support

On The Paralegal Voice co-host Vicki Voisin welcome's guests Ann L. Atkinson, ACP, NALA President, Michael Potters, CEO/Managing Partner of Glenmont Group, Inc. and Patrick Oot, co-founder of the Electronic Discovery Institute for a lively discussion about career opportunities for paralegals in the area of litigation support, particularly eDiscovery and technology.

Virtual Paralegals: Forming a Magical Team

Are you thinking about working virtually but don't know how to get started? Paralegal Voice co-host Vicki Voisin welcomes virtual professionals Tina Marie Hilton, owner of Clerical Advantage and Cathy L. Ribble, ACP, owner of Digital Paralegal Services, LLC, to spotlight virtual paralegals and how to form a magical team. Tina and Cathy share their personal experiences, the important skills needed to be a successful virtual professional, as well as the websites and blogs that they visit often for their businesses. They also predict a very bright future for virtual professionals and provide their reasoning for that.