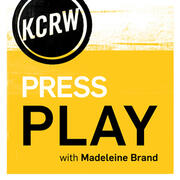 Exiled From Hollywood, an $84,000 cure, and No Ceasefire

More than three million Americans have Hepatitis C. A cure is now available, but at $84,000, insurance companies will only pay for the sickest to be treated. We take a look at that, and we meet a screenwriter who made films overseas because she was blacklisted by Hollywood.

The Biden Agenda, Comic Con Blues, and Student Debt Crisis

Today on Press Play, we look at the state of community colleges, especially in California, and we discuss the growing student debt crisis. We also talk to a New Yorker writer who offers an in-depth dissection of Vice President Joe Biden?s time in the White House.

Ballet Free Agency, Americans and the Booker Prize, and More

Prosecutors reading private email sent from federal prisoners to attorneys. The Man Booker Prize long list. Eric Garner chokehold by NYPD officers. Rhode Island indoor prostitution and the impacts on fewer rapes. Also, two of the world?s greatest ballet dancers at Orange County?s Segerstrom Center.

Lovely Lawns, Problematic Palms, and Smithsonian Orphans

Affordable Care Act rulings and where that leaves Obamacare. The myth that we only use 10% of our brains. The drought and green lawns. L.A.?s palm trees don?t really belong here? And we look inside the Smithsonian?s orphan collections.

Mideast Propaganda Wars, Putin?s Popularity, and Fox?s Utopia

Hamas and Israel using social media to influence coverage of ongoing conflict. Vladimir Putin?s popularity is soaring. A record that has become one of the most sought-after artifacts for some music collectors. TV roundup: Fox?s attempts to build a utopia.

Transportation Mysteries, New Teacher Union Leader, and More

The Malaysian Airlines flight and anti-aircraft missile? We also talk to the new leader of LA?s teacher union. Film roundup: racist casting call? This weekend?s new releases. And, transportation mysteries of Southern California.

Life Among The Rockets in Israel and Gaza

Children were killed by an Israeli airstrike . Americans who can?t afford to retire, picking up jobs. And a slave who was one of the most famous pianists of the 19th century.

Cheerleaders Fight for Pay, DNA Dating, and Homeless LA

Mayor Eric Garcetti is promising to end homelessness among veterans. Oakland Raiders cheerleaders? minimum wage pay. Iraqis that worked with the Americans trying to come to the U.S. Web roundup: the end of online passwords, dating sites that use DNA, and chat roulette for stoners.

Beau Bergdahl Mystery, Today?s Peace Corps, Brain Mapping

An update on Beau Bergdahl; the last-minute peace deal in Afghanistan; using drones to build; a look at today's Peace Corps; and the race to map the human brain.

Undocumented Children in Bell, Amazon TV and Caught in the Crack Epidemic

The mayor of Bell, CA talks about his own history and his plan to help undocumented children from Central America; we get a close-up look at Guatemala; Amazon and Hulu enter the fall TV fracas; journalist Ruben Castaneda on his new memoir; we remember Nobel Prize-winning author Nadine Gordimer with a literary scholar who knew her personally.

"Re-homing" Adopted Kids, Defining Film Criticism, and More

How to "re-home" adopted children; an update on the struggle in the Middle East; our weekly Friday film segment; and the role of film critics in the internet age.

Families of Prisoners, Reality TV Culture, and Water Rules

Today on Press Play: Emmy nominations, a preview of the World Cup final, the fight for water, and teens with family in prison.

History of Corporate Personhood, Botox and Happiness, and More

Religion, business and equal opportunities; legal support for immigrant children; a historical look at when corporations are treated as people in court; non-cosmetic uses for Botox; and the future of American Apparel.

The Making of Maliki, Immigration and Privatization, and More

Obama requests money from Congress for immigration; the pros and cons of snacking; disrupting car culture; and is it time for Iraq's Prime Minister to step down?

Freediving, Sharks, and Teens Kidnapped, Killed in West Bank

Tensions running high in the West Bank. Worldwide: 1 billion children forced into becoming soldiers. TV: World Cup ratings, ?Community,? and ?Strain.? What is Freediving? And, shark bites swimmer.

The Real July 4th, Big Little Man, and the Tinder Lawsuit

Over a thousand people showed up in Murrieta last night to debate over detained immigrants. Also, the harassment lawsuit against the hook-up app Tinder and the culture of startups in Silicon Valley. Mike Pesca discusses parenting and the role of fathers, writer Alex Tizon takes on Asian stereotypes in his new book Big Little Man. And writer/performer Mike Schlitt with his take on the real meaning of Independence Day.

Comedian Brody Stevens, Stupid Condors, and Inside Our Guts

A peak inside the human digestive system with science writer Mary Roach. Comedian Brody Stevens about his mental breakdown. The New Yorker?s Elizabeth Kolbert says the earth is currently going through an extinction period. And we find out why an attempt to save condors is actually making the birds stupid.

Murrieta Immigration Showdown, Future Folk, and Black Phones

Buses with 140 undocumented migrants blocked by protesters on their way to Murrieta. Extreme violence in Central America is pushing many people north. We also meet the men behind ?Future Folk?, a sci-fi bluegrass band. And our tech expert introduces us to ?black phones?, robot legs, and a computer chef.

The Making of Iraq, World Cup Fever, and an Eagle Adventure

U.S. soccer team at the World Cup today, high-profile departures at ?The View? and ABC News, and new California law requiring disability insurance plans to cover mental illnesses. Next, turmoil in Iraq partly over borders drawn hundreds of years ago. Then, real-time feeds of wildlife and what happens when viewers decide to interfere with nature.

Hobby Lobby FAQs, GI Bill Investigation, and Facebook Outrage

Supreme Court ruled today that Hobby Lobby does not have to cover contraception for employees for religious reasons. A look at the family behind Hobby Lobby and the organization that recruited them. Next, the University of Phoenix and GI Bill tuition money. Also filmmaker Doug Block on his new documentary ?112 Weddings.? Last, Facebook ran an experiment on users in 2012, but didn?t get permission from the users.

The Wage War, West Adams? Old Dairy Farm and Movie Roundup

Raise wages and why the government has stepped out of the debate. The relationship between Silicon Valley tech companies and government regulators. Also, a program in Richmond, California that pays potentially-violent people to stay out of trouble. Film roundup: ?Transformers: Age of Extinction,? and ?Snowpiercer.? And, the Los Angeles Conservancy is honoring the people who?ve restored and preserved some of the oldest structures in Los Angeles.

World Cup Prospects, Runaway Production and a Drone Forever War

The US in the World Cup group of 16. California is losing TV and movie production to other states with better incentives, can proposed legislation help? Also, a look at how a six-volume, fictionalized memoir captured readers. Then, filmmaker Brian Knappenberger about his new film, ?The Internet?s Own Boy: The Story of Aaron Swartz.? Finally, a new report on weaponized drone use.

?No? to No Fly Lists, Aereo, and Warrantless Phone Searches

Cell phone searches, the end of Aereo, the no fly list, online death threats, and the oldest living things in the world.

Whitey Bulger and the FBI, Media Hacking, and LA Tax Breaks

Former head of Rupert Murdoch?s British newspapers, has avoided jail time. The Los Angeles City Council is considering giving 180 million dollars in tax breaks to luxury developments downtown. 2014, is the worst year for car recalls in the US. And, we talk to the director of a new documentary about the FBI?s relationship with mobster Whitey Bulger.

Youth at the Border, Crushing World Cup Tie and Code Literacy

World Cup woes for the US, the Spanish language media market, youth crossing the US border, the importance of learning code, and our weekly TV roundup.

Defensive Architecture, Living in Cars, and Bad Medicine

LA?s law that bans people from living in their cars? Cities are creating ?defensive architecture? to keep homeless from hanging out on the streets. We hear from family members of mass shooting victims dealing with grief. And, the weekly film roundup.

Dov Gets Booted, Obama Updates Iraq Plan, and Animals Go Mad

President Obama on the situation in the Middle East. American Apparel founder Dov Charney accused of sexually harassing his employees, ousted by his own board of directors. Two senators propose reducing the FAFSA form questions. Author Laurel Braitman shares studies on madness in animals. And another California Supreme Court justice is stepping down.

Redskins Trademark, GM Recalls and the History of Booze

The US Patent Office revokes the Redskins? trademark. GM CEO testifies before Congress on major recalls by the company. We get the history of booze from author Adam Rogers. And, a look at the world of tech, from Amazon smartphones to smell-o-texting.

Rock 'n' Roll LA, Emoji Controversy, and Ocean Protection

Obama's plan for ocean protection, making water from waste, whooping cough, rock 'n' roll in LA, and emoji diversity.

Starbucks U., the Ivory Trade, and Tastemakers

Starbucks offers free tuition, the state of the ivory trade, suing LA's biggest banks, "tastemakers," and our weekly TV roundup.

The Real Life Frank Underwood, Life After Prison and Disease-Fighting Bugs

Eric Cantor's replacement, the debate over teacher tenure, finding work after prison, bioengineered bugs, and our weekly film roundup.

World Cup Protests, Four Decades of Film and Scary Food News

ISIS explained, protests at the World Cup, Ken Turan on film, antibiotic-resistant bacteria and the limits of political polls.

Uniquely LA Film, Gaming the Emmys, and Goodbye Eric Cantor

Eric Cantor's defeat, violence in Iraq, the 20th annual LA Film Fest, a World Cup preview, NHL and NBA news, and Emmy politics.

Teachers Verdict, Cost of Cybercrime, and a Spymaster Speaks

An education lawsuit verdict, the cost of cybercrime, the health of the American car economy, CIA veteran Jack Devine's new memoir, and the most-highlighted passages from Kindle.

Student Debt, Charlie Beck and Binge TV

Today on Press Play: Student debt, the case for (and against) Police Chief Charlie Beck, Richard Gabriel's new book, a preview of E3 and our weekly TV roundup.

Bullet Trains, The Gay Gene and Hollywood NIMBYs

California's bullet train hits another snag, Hollywood NIMBYs, the search for the "gay gene," a Led Zeppelin lawsuit, and our weekly film segment.

Grey Wolves, Sheriff Trial Update and California Chrome

Protecting grey wolves, investigating LA Sheriff's Department, California Chrome's local roots, the Hollywood Fringe Festival, and "the sharing economy."

Election Results, Stanley Cup, and Tiananmen Square Remembered

Yesterday's primary election results, a preview of the Stanley Cup finals, a tribute to Tiananmen Square, community supported agriculture, and a tech update.

Bowe Bergdahl, ICE Holds, and My Salinger Year

The White House plays defense upon Sergeant Bowe Bergdahl's return, California counties refuse ICE holds, Joanna Rakoff on Salinger and Syrian elections.

Election Day Preview, House Call Comeback and Car Hacking

U.S. Army Sgt. Bowe Bergdahl is freed in a prisoner swap, LA gears up for tomorrow's primary election, the house call makes a comeback, and more.

VA Resignation, Clippers Sale, and Drugs on Amazon

VA secretary resignation, Clippers sale to Steve Ballmer, and drugs for sale on Amazon.

Concussions, School Food, and Spelling Bee Preview

Concussions in youth sports, the fight over school food, talking to boys about violence against women, and a preview of the Scripps Spelling Bee.

Obama, Big Data, Gerrymandering, Angelou and Waffles

What?s Obama?s Foreign Policy? Plus: FTC protects your data, Gerrymandering, Maya Angelou, and the Belgian Waffle.

Santa Barbara Killings, D.A. Jackie Lacy & the LA River

A recap of the Santa Barbara shootings that occurred last Friday and the misogynistic motives of the killer. Plus: LA DA Lacey, the LA River, and death penalty.

Losing Tim, Fault Lines, Vivian Maier & the Meat Racket

On Memorial Day, we talk to the mother of a soldier who lost his life off the battlefield. Also: income inequality, Vivian Maier, and the modern meat industry.

Sterling to Sell, Ditching Soap & Mayor Garcetti

Is Donald Sterling preparing to sell the LA Clippers? Also, LA Mayor Eric Garcetti recaps his first year, a year without soap, and our weekly film roundup.

Painkiller Lawsuit, School Segregation & Beach Health

California counties sue the pharmaceutical industry, the health of California's beaches, and an in-depth look at school segregation in Los Angeles.

9/11 Museum Concerns, VA Investigation & Smokey Turns 70

The 9/11 museum opens, the White House investigates the VA hospital wait list scandal, Sara Eckel on women's right to be single, and Smokey Bear turns 70.

World Politics on Campus, Trigger Warnings & Climate Change

Middle East politics at UCLA, trigger warnings, rising sea levels, and our new parenting segment "We Need to Talk About the Children."

Cyber Espionage, Facial Recognition Software & Poker

Five Chinese military officials are charged with cyber espionage, facial recognition tech expands, Colson Whitehead talks poker, and Disneyland raises prices.

Fish Oil, Godzilla, and Horses of God

San Diego county homes evacuated for fire, scientifically questionable health reporting, 'Horses of God,' journalists on trial in Cairo, and our weekly film roundup.

Net Neutrality, Jill Abramson & the Fight Over GMOs

The FCC rules on net neutrality, the NY Times fires its executive editor, new research on earthquakes, bee populations plummet, and the fight over GMOs.

Laura's Law, U.S. Wine Drinking & Commencement Speakers

LA approaches fire season, Laura's Law passes, U.S. leads in wine consumption, commencement speaker controversies, and Russia cuts off US space support.

The Right to Be Forgotten, Young Readers & Title IX

The right to be forgotten, young people reading less, applying Title IX to sexual assault, taking a gap year, ordering food online, and remembering H.R. Giger.

TV Upfronts, Michael Sam Drafted & Roz Chast on Her Memoir

Michael Sam is drafted by the St. Louis Rams, TV upfronts, Eastern Ukraine declares independence, driving high, and cartoonist Roz Chast on her memoir.

Vets' Healthcare, LA Magazine Publishing & Beats by Dre

Blighted homes in LA, healthcare for veterans, our weekly film roundup, what it takes to succeed in LA's magazine world, and Apple's interest in Beats by Dre.

So Cal Political Races, Infomercials & a Bullying Law

President Obama fundraises in California, a guide to LA's local political races, the death of the infomercial, movies for Mother's Day, and criminalizing bullying.

New LA Jails, Border Violence & Bernie Released

LA County votes for new jails, abuse at the US-Mexico border, Nancy Silverton talks food, Bernie Tiede is released from prison, and William Onyeabor's legacy.

Mad Men, Adapting to Climate Change & Brunei Brutality

The White House's new report on climate change, protestors boycott Brunei, the latest accusations against Bryan Singer, and Matthew Weiner talks 'Mad Men.'

Missing Nigerian Girls, Sandra Tsing Loh, and TV Round-Up

An update on the Islamist group that snatched 300 school girls in Nigeria. Plus, Sandra Tsing Loh on her new book, And Google and Amazon?s same-day delivery in LA.

pp140502Drought_CEO_Pay_and_

NAACP Questioned, Chefs on Film & Sklars on Sports

The NAACP is questioned over the Donald Sterling controversy, Evan Kleiman talks 'Chef', the Sklar Brothers on LA sports, and an update on Heartbleed.

Mass Incarceration, Online Poker & Godzilla Turns 60

The US incarceration rate grows, two California bills move to legalize online poker, Godzilla turns 60, and the Fed ramps up cybersecurity.

Donald Sterling Banned, Modern Workplaces & Skymall

Donald Sterling is banned from the NBA, what Toyota's move from Torrance says about the car industry, the history of the workplace, and Skymall struggles.

pp140428Donald_Sterling_Mona

pp140425The_Justice_Divide_t

Baryshnikov, Sherpa Strike, and Fancy Taco Bell

Sherpas on Mount Everest go on strike, Mikhail Baryshnikov stops by, the Academic Decathlon Championships kick off, and Taco Bell gets bougie.

Hollywood Abuse Claims, Clemency, and a Digestive Tour

Allegations of child sexual abuse emerge from Hollywood, clemency for prisoners, a tour of our digestive systems, and the story of Nathaniel Ayers.

Affirmative Action, Feeding the World & Political Dynasties

SCOTUS upholds Michigan's ban on affirmative action, feeding 9 billion people, political dynasties, and how to handle your 'True Detective' withdrawal.

POM Wonderful at the Supreme Court, Urban Insects & Sex Ed

Today on Press Play: The juice wars reach the Supreme Court, a 16-year-old stows away on a flight to Hawaii, spoiler etiquette, urban insects, and sex ed.

Fighting Parking Fines, Saving Big Words & Coaching Lives

Today on Press Play: Parking tickets, wage theft, life coaching, vocab, and our weekly film roundup.

Defusing Ukraine, Space Twins and Stupid Condors

Defusing tensions in the Ukraine, suing General Mills, funding the arts, launching rockets to space, and bringing condors back from the brink of extinction.

Science of Humor, Matzo, and Rent Is Too Damn High

Today we look into the science of comedy, why LA renters pay more than 45% of their income on rent, and offer some ideas for that leftover matzo.

Tracking Taxes, Mormons Go Digi, and Newspaper vs Newpaper

Where do our tax dollars end up? Can competition hurt the quality of journalism in a market? Are we over the hill by our mid-twenties?

Tracking Hate, Philanthropy Philosophies, and Wiki Bias

Tracking individuals by their online activity; philanthropic charity; Wikipedia's gender bias; and, our weekly television roundup.

Skid Row Cleanup, Bus Accident, and Coachella Pros and Cons

The tragic bus accident in NorCal, cleaning up Skid Row, new films, reasons to go ? or not go ? to Coachella, and the latest car news, from recalls to Smart car tipping.

State of the Garcetti, Late Night Colbert, and Grilled Cheese

The Mayor's first months in office, LA traffic, Colbert to go to 'Late Night.' Plus, new hope for movement to paralyzed limbs, and the Grilled Cheese Invitational.

Computer Insecurity, Saying "No" to Tests & Bush the Painter

pp140408Mexican_Heroin_After

Talking About Your Paycheck, Soul Train, Colorado & Pot

Today on Press Play: paycheck transparency, gender and wages, 'Game of Thrones' and 'Soul Train,' Letterman's replacement, and Colorado's pot law.

O.D. Treatment, Backlash to a Backlash, 25 Years of Heathers

Preventing overdoses with a device, Mozilla's CEO resigns, bullying in school, 25 years of 'Heathers,' and our weekly film roundup.

Losing Tim, Charlotte's Web and the "Deporter in Chief"

Today on Press Play: The Fort Hood shooting, LA's sprawl, marijuana that treats epilepsy, and is Obama still the "Deporter in Chief"?

Campaign Finance, Sex Addiction in Film & Raw Milk Fight

Should campaign contributions be capped? Is sex addiction moving into the mainstream? Should teens sleep in? Will unpasteurized milk be sold across state lines?

GM Recall, Gmail Turns 10, TV Roundup

GM recalls 2.6 million cars, Gmail turns 10, 'How I Met Your Mother' wraps up its nine-season run, a Brit in SoCal, and new protections for temp workers.

Healthcare Deadline, Goodbye Hobie & Spring Cleaning

Registration ends for the Affordable Care Act, spring cleaning, remembering surfer Hobie Alter, and our weekly politics roundup.

Silver Lake vs Airbnb, Deep Undercover and Coming of Age

Angelenos take on Airbnb, an undercover agent leads the sting against Sen. Leland Yee and Raymond Chow, and our weekly film roundup.

Shrimp Boy, The Pritzker Prize and Free After 32 Years

Shigeru Ban wins the Pritzker, football players are allowed to unionize, the arrest of Raymond "Shrimp Boy" Chow, and more.

Leland Yee Arrest, State of the News, Free to Be You & Me

Today on Press Play: Leland Yee is accused of criminal wrongdoing, the state of the media, rethinking broccoli, and revisiting 'Free to Be... You and Me.'

Smog, TV Pilots, Errol Morris & the Future of Kobe

How bad is the air in LA? Is there a better way to handle TV pilot season? Why are conservatives fighting for free speech? And should Kobe call it quits?

Hobby Lobby, Kony 2014 and the Pole Dancing Awards

Today we preview the Hobby Lobby case, revisit the "Kony 2012" video, join the search for Vivian Maier, and report on the first annual Pole Dancing Awards Show.

Anita Hill, DNA Ruling and Twitter & Turkey

Today we discuss sexual harassment with Anita Hill, Turkey's decision to shut down Twitter, DNA collection, sunscreen banned in the U.S., and books on film.

Stillborn Legal Fight, March Madness and Brains on Music

"Fetal harm" prosecutions, March Madness, unvaccinated children, and your brain on music.

Toyota Settlement, A Mystery Itch and Dodgers TV

Toyota settles for $1.2 billion, a mysterious diseases emerges, Dodger TV launches, KCET's CEO steps down, and the Oscar Pistorius murder trial continues.

Missing Plane, Charter Schools and Fast Fashion

Why did Malaysia Airlines Flight 370 go off-course? Do charter school students learn more? Who's driving "fast fashion" in LA? Are struggling homeowners out of luck?

Earthquakes, Sanctions, and Random Tape

Obama announces U.S. sanctions against Russia, we respond to this morning's earthquake, saving LA, and David Weinberg's "Random Tape" project.

Crimea, The Missing Jet, The Death Doula & The Movies

Putin's media crackdown, death doulas, an update on Malaysia Airlines flight 370, and our regular Friday film update.

Herbalife Troubles, The Business of Death & Lakers Woes

Is Herbalife a pyramid scheme? Why aren't more women taking science and technology jobs? What's the future of the funeral industry? And can the Lakers recover?

Sex Trade Study, Massage Laws & Return to the Bubble?

A study of the sex trade in 8 U.S. cities, massage laws, housing prices on the rise in Southern California, Candy Crush, and more.

Fukushima Anniversary, The Non-Rockefeller & Joe McGinniss

Today: looking back at the Fukushima disaster of 2011, the tale of a Rockefeller impostor, remembering journalist Joe McGinniss, and an update from SXSW.

Snowden at SXSW, Addiction & The Chicken Industry

Edward Snowden speaks at SXSW, Republicans and Democrats hold bicoastal conferences, Tyson Foods takes over the chicken industry, and rethinking addiction.

TX v CA, Daylight Saving & Sexual Assault in the Military

Texas Gov. Rick Perry criticizes California, we prepare for Daylight Saving, sexual assault in the military, and more.

Price of Privacy, HIV Infants & Major Healthcare Changes

Is privacy becoming a luxury? What's the future of healthcare in the US? And have we found a cure for HIV in infants?

Vaping, Chevron in Ecuador & Crowdsourcing Science

LA bans e-cigarettes, a judge claims fraud in the $9.5B settlement against Chevron, crowdsourcing science, and the historical (in)accuracy of the '300' sequel.

Military Mental Illness, Common Core 101 & Young Money

Today we discuss the mental health issues afflicting veterans, the boom of the young Wall Street scene, TV pilot season, and the Common Core curriculum.

Ukrainian Identity, The Mind of Putin, and Peak Car

Today we discuss the cultural identity of Ukrainians, the idea "peak car," the death of an assistant camera operator, California Democrats, and more.

Rain, Race, Oscars and Bieber

How can Southern California take advantage of its rare rainfall? What does Justin Bieber's meltdown say about our culture? Which film will top the Oscars?

The Sixth Extinction, New Food Labels, and Designer Babies

The world's sixth great extinction, border patrol brutality, "three-parent in vitro fertilization," Jesus in film, and more.

Inside the LASD, Kids & the Paparazzi, and a Mystery Disease

Today we go inside the L.A. County Sheriffs Department, discuss recent efforts to keep kids out of the celebrity spotlight, investigate a new disease and more.

Marriage Laws, Got Milk?, and the Business of Online Dating

On today's Press Play: Defending same-sex marriage, declining milk sales, the growing world of online dating, secrets of the Vatican, and TV rating struggles.

Mexican Drug Lord, Legacies of Harold Ramis & Bill Thomas

Today on Press Play: the capture of one of Mexico's most wanted fugitives, the legacies of Harold Ramis and Bill Thomas, and a man at the center of the world.

Venezuelan Violence, Olympic Scandal, Tech Goes To Court

Today we cover the violence in Venezuela, a near-scandal on the ice at the Olympics, court rulings in two technology cases, and gun licenses in Orange County.

WhatsApp, The Power of Fraternities & Flu Vaccine Myths

Today on Press Play: Facebook acquires WhatsApp, the "dark power of fraternities," income inequality, flu vaccine myths, and an update on the Culver Ice Arena.

Mexico Beyond the Headlines, Dance in LA & Science of Winning

Today we cover the realities and myths of modern Mexico, the LA Dance Project, development in downtown LA, and a settlement by the Catholic Church.

Police Shootings, Driving While High, and a Pretzel Fight

How do cops review officer-involved shootings, or deal with drivers high on marijuana? Plus, a look at documentary Facing Fear, Trader Joe's secrets, and more.

Presidents Day, Politics, and Pot Laws

Today we hear about the origin of Presidents Day, California's medical marijuana business, Olympian corporate sponsorships, and more.

Drought, Jamzilla and Japan's Fake Beethoven

Obama visits the Central Valley, traffic warnings abound as the 405 closes for the weekend, and a beloved Japanese composer is revealed as a fraud.

TV Alternatives, Afghanistan Spin & Relationship Weight

Comcast wants to acquire Time-Warner Cable, photojournalism in Afghanistan, gaining weight in a relationship, and radio responds to internet streaming services.

Mammograms, Income Divide & Mexican Money in American Politics

A new study suggests breast cancer screenings may be ineffective, we examine the income gap in our Fault Lines series, and foreign cash enters U.S. politics.

Snowboarding in Sochi and Mutts at the Dog Show

Snowboarding in Sochi brings an Olympic update, mutts are allowed in the Westminster Kennel Club Dog Show, and the latest in television news.

Gay in the NFL, Rap Lyrics in Court & Immigration Reform

Today we discuss NFL prospect Michael Sam?s decision to come out as gay before the draft, the controversy over using rap lyrics in court and immigration reform.