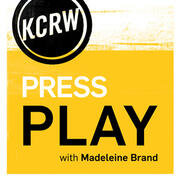 Crimea, The Missing Jet, The Death Doula & The Movies

Putin's media crackdown, death doulas, an update on Malaysia Airlines flight 370, and our regular Friday film update.

Herbalife Troubles, The Business of Death & Lakers Woes

Is Herbalife a pyramid scheme? Why aren't more women taking science and technology jobs? What's the future of the funeral industry? And can the Lakers recover?

Sex Trade Study, Massage Laws & Return to the Bubble?

A study of the sex trade in 8 U.S. cities, massage laws, housing prices on the rise in Southern California, Candy Crush, and more.

Fukushima Anniversary, The Non-Rockefeller & Joe McGinniss

Today: looking back at the Fukushima disaster of 2011, the tale of a Rockefeller impostor, remembering journalist Joe McGinniss, and an update from SXSW.

Snowden at SXSW, Addiction & The Chicken Industry

Edward Snowden speaks at SXSW, Republicans and Democrats hold bicoastal conferences, Tyson Foods takes over the chicken industry, and rethinking addiction.

TX v CA, Daylight Saving & Sexual Assault in the Military

Texas Gov. Rick Perry criticizes California, we prepare for Daylight Saving, sexual assault in the military, and more.

Price of Privacy, HIV Infants & Major Healthcare Changes

Is privacy becoming a luxury? What's the future of healthcare in the US? And have we found a cure for HIV in infants?

Vaping, Chevron in Ecuador & Crowdsourcing Science

LA bans e-cigarettes, a judge claims fraud in the $9.5B settlement against Chevron, crowdsourcing science, and the historical (in)accuracy of the '300' sequel.

Military Mental Illness, Common Core 101 & Young Money

Today we discuss the mental health issues afflicting veterans, the boom of the young Wall Street scene, TV pilot season, and the Common Core curriculum.

Ukrainian Identity, The Mind of Putin, and Peak Car

Today we discuss the cultural identity of Ukrainians, the idea "peak car," the death of an assistant camera operator, California Democrats, and more.

Rain, Race, Oscars and Bieber

How can Southern California take advantage of its rare rainfall? What does Justin Bieber's meltdown say about our culture? Which film will top the Oscars?

The Sixth Extinction, New Food Labels, and Designer Babies

The world's sixth great extinction, border patrol brutality, "three-parent in vitro fertilization," Jesus in film, and more.

Inside the LASD, Kids & the Paparazzi, and a Mystery Disease

Today we go inside the L.A. County Sheriffs Department, discuss recent efforts to keep kids out of the celebrity spotlight, investigate a new disease and more.

Marriage Laws, Got Milk?, and the Business of Online Dating

On today's Press Play: Defending same-sex marriage, declining milk sales, the growing world of online dating, secrets of the Vatican, and TV rating struggles.

Mexican Drug Lord, Legacies of Harold Ramis & Bill Thomas

Today on Press Play: the capture of one of Mexico's most wanted fugitives, the legacies of Harold Ramis and Bill Thomas, and a man at the center of the world.

Venezuelan Violence, Olympic Scandal, Tech Goes To Court

Today we cover the violence in Venezuela, a near-scandal on the ice at the Olympics, court rulings in two technology cases, and gun licenses in Orange County.

WhatsApp, The Power of Fraternities & Flu Vaccine Myths

Today on Press Play: Facebook acquires WhatsApp, the "dark power of fraternities," income inequality, flu vaccine myths, and an update on the Culver Ice Arena.

Mexico Beyond the Headlines, Dance in LA & Science of Winning

Today we cover the realities and myths of modern Mexico, the LA Dance Project, development in downtown LA, and a settlement by the Catholic Church.

Police Shootings, Driving While High, and a Pretzel Fight

How do cops review officer-involved shootings, or deal with drivers high on marijuana? Plus, a look at documentary Facing Fear, Trader Joe's secrets, and more.

Presidents Day, Politics, and Pot Laws

Today we hear about the origin of Presidents Day, California's medical marijuana business, Olympian corporate sponsorships, and more.

Drought, Jamzilla and Japan's Fake Beethoven

Obama visits the Central Valley, traffic warnings abound as the 405 closes for the weekend, and a beloved Japanese composer is revealed as a fraud.

TV Alternatives, Afghanistan Spin & Relationship Weight

Comcast wants to acquire Time-Warner Cable, photojournalism in Afghanistan, gaining weight in a relationship, and radio responds to internet streaming services.

Mammograms, Income Divide & Mexican Money in American Politics

A new study suggests breast cancer screenings may be ineffective, we examine the income gap in our Fault Lines series, and foreign cash enters U.S. politics.

Snowboarding in Sochi and Mutts at the Dog Show

Snowboarding in Sochi brings an Olympic update, mutts are allowed in the Westminster Kennel Club Dog Show, and the latest in television news.

Gay in the NFL, Rap Lyrics in Court & Immigration Reform

Today we discuss NFL prospect Michael Sam?s decision to come out as gay before the draft, the controversy over using rap lyrics in court and immigration reform.

Olympic Guide, Chilly Relations with Russia, & DWP Standoff

Relations grow chilly between the U.S. and Russia, plus we offer a viewing guide for the Winter Olympics and investigate a standoff between the DWP and L.A.

Cheating Scandal, Speed Skating & Leno's Last Hurrah

Today on Press Play: a high school cheating scandal, skating in SoCal, Moby talks Los Angeles, and Jay Leno leaves late-night TV (again).

Is Sochi Ready?, California Egg Laws & Priest Abuse Update

On today's show, we cover the surprising hotel conditions in Sochi, California's agricultural laws, sexual abuse and the Vatican, and a student athlete labor union.

Aging Facebook, Selling Science, and a Dystopic Income Gap

On Facebook's 10th birthday, why are young people going elsewhere? Also, scientific research meets commercial interest, the race for the foreign film Oscar, and more.

Philip Seymour Hoffman, Woody Allen & Sochi

Today we look back on the life and legacy of actor Philip Seymour Hoffman, discuss President Obama's tense interview with Bill O'Reilly, and get an inside look at Sochi.

Art History vs. Factory Jobs, Super Bowl Prep, and Cat Art

Today we debate the value of the humanities versus manufacturing jobs, visit L.A.?s first cat art show, and we get prepped for the Super Bowl.

Waxman to Retire, a Local Olympian, Reinventing the Corvette

Today we discuss a surprise retirement announcement from U.S. Representative Henry Waxman, talk to a local U.S. luge team member headed to Sochi, and more.

State of the Union, LA Sustainability and the Toast Renaissance

Today we discuss last night's State of the Union Address, the Oscar-nominated documentary The Square, the latest culinary trend, and L.A.'s sustainability.

Pete Seeger Remembered, Visiting the Middle & Gluten-Free Grub

Today on Press Play: the life and legacy of Pete Seeger, our Fault Lines series explores the medium income in L.A. County, the gluten-free craze, and more.

First Steps, Education Lawsuit and The Grammys

On our inaugural broadcast of KCRW's Press Play, Madeleine Brand talks with politicians, musicians, and more about significant "firsts" of their careers.