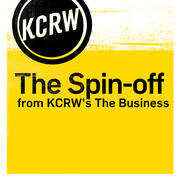 Big Summer Shows, Chelsea Handler and Cable Makeovers

Lots of big new shows launch this summer, and several cable channels get naming makeovers. Chelsea Handler will bring her late-night show, or some version of it, to Netflix, and AMC's Better Call Saul will be around for at least two seasons.

Diversity Is Up, Comedy Is Down; TV Stars on Film

Diversity and comedy -- two trends that emerged at the broadcast television upfronts this year. Then, can TV stars in hot shows launch hit movies?

Colbert to CBS; What's up with CNN and HLN?; Twitter and TV

Can CBS get the Colbert bump? What has become of CNN and its sister network, HLN? Plus, the intersection of Twitter and TV.

The State of ABC; Is There Too Much Good TV?; Amazon Shows

ABC loses a top exec and gains a (potential) new hit show, "Resurrection." Also, is there too much good TV? Can Amazon rival Netflix?

Changes in Late Night; The Olympics, NFL, and 'Bubble' Shows

Do changes in late night matter? Live sports: The Olympics and NFL; ?Bubble? Shows

TCA's; Wherefore Pilot Season; Duck Dynasty

What are the TCA's and do you care? Some TV networks are changing pilot season. What's the fallout from the "Duck Dynasty" drama?

Special TV Roundtable Edition

The roundtable discusses the Fall TV Season, how we watch and the Emmys.

The Comedy Crisis; The Walking Dead; Social TV

Netflix; DVR Ratings; Reality TV

The Netflix deal with Marvel; the changing TV ecosystem and what's up with Reality TV?

'The Sound of Music Live;' TV Violence; Netflix

'The Sound of Music Live' hits big. Also, TV violence and the top TV stories of 2013.