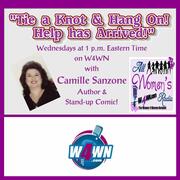 A TRIBUTE TO ROBIN WILLIAMS

Camille Sanzone does a tribute to Robin Williams. As a comedian, with a unique talent, and supple mind, Williams gave the world legions of laughs. As an actor, he portrayed memorable characters, delivering lines, both comic and poignant, with impact and grace. And his humanity equaled his talent – going on USO tours, being a vital part of Comic Relief, and so much more. A light has gone out, but his body of work shall lift us always, even as we lift him up to the light. This show is broadcast live on W4WN Radio – The Women 4 Women Network (www.w4wn.com) part of Talk 4 Radio (http://www.talk4radio.com/) on the Talk 4 Media Network (http://www.talk4media.com/)

Going from BooHoo to WooHoo in 90 Day

Camille Sanzone's guest is Cassandra James, author of HOW TO GO FROM BOOHOO TO WOOHOO IN 90 DAYS! Camille and Cassandra discuss how to transform matters of suffering into the catalyst for victory and personal growth. Cassandra says that happiness is a discipline anyone can master, and YOU deserve to be happy, so listen in to this enlightening, fun exchange. Check out Camille's book too, which is filled with laughter and life: At the End of your Rope? Tie a Knot &Hang On! Help has Arrived! This show is broadcast live on W4WN Radio – The Women 4 Women Network (www.w4wn.com) part of Talk 4 Radio (http://www.talk4radio.com/) on the Talk 4 Media Network (http://www.talk4media.com/)

Hypnosis & Past Life Regression

Camille Sanzone's guest Susan Lawrence, Certified Clinical Hypnotist, who trained under renowned psychiatrist Dr. Brian Weiss, author of MANY LIVES, MANY MASTERS, demystifies & explains the benefits of hypnosis. Using guided imagery, childhood & past life regression, Susan helps people uncover the original cause of their fears, freeing them to reclaim their lives and know joy, sometimes for the first time. Listen in on this fascinating discussion. You can contact Susan at GetJoyful.com. This show is broadcast live on W4WN Radio – The Women 4 Women Network (www.w4wn.com) part of Talk 4 Radio (http://www.talk4radio.com/) on the Talk 4 Media Network (http://www.talk4media.com/).

ving a Compassionate Life

Host Camille Sanzone encourages us to make a commitment to live compassionate lives, modeling for the next generation a better way of being in the world. When we behave in unkind or violent ways because that's what we have known or seen, it's too easy to say, "I can't help it!" She says "We CAN help it; we MUST help it, or our children will inherit a negative & somber view of the world, & their place in it." Camille calls on us to make a donation via PayPal to forabetterway.net toward the formation of a non-profit through which she will create a free program teaching compassionate living in the schools. Hear a brilliant clip of RUSSELL BRAND at show's end. This show is broadcast live on W4WN...

MY CONVERSATION WITH GOD

Camille Sanzone, host of "Tie a Knot & Hang On!" Help has Arrived," is the author of AT THE END OF YOUR ROPE? TIE A KNOT & HANG ON! HELP HAS ARRIVED! In this episode of her radio show, she shares Chapter 15 of her book, entitled: "My Conversation With God." While that book is a perfect-bound 8 X 10 paperback with a beautiful, colorful cover, two of her other (shorter) books are published as kindle editions: A CONVERSATION WITH SOME ANGELS...and DROP THE WAIT: Someday Is Now! You can find all of Camille's books on amazon.com by entering her name or the title of any of her books. Do yourself a favor and pick up a copy of AT THE END OF YOUR ROPE.... It will do you good. You deserve to be happy!...

GAM3RS, THE PLAY THAT BOLDLY GOES.......

Camille Sanzone talks with Walter G. Meyer, writer and co-producer, and Brian Bielawski, co-creator and actor of this hilarious one-man show, which BOLDLY GOES WHERE NO PLAY HAS GONE BEFORE! The play is about Steve, a reality-challenged geek whose gaming interferes with his work, love and family life, but to him it's serious business; in fact, without his heroism, civilization in the kingdom could come crashing down! Listen as Camille & her guests talk about the metaphor of life the play truly is, and how we can all be a hero in our own lives by showing up, playing the game every day and finding new ways of being in the world. A great play and a great interview. Don't miss Brian's LIVE perfo...

"Older Ladies" Phenom: Donna Lou Stevens

Host Camille Sanzone interviews Donna Lou Stevens of YouTube fame. Her video "Older Ladies," which is hysterically funny yet poignant, went phenomenally viral. Camille talks with Donna Lou about how all this got started all except for "Older Ladies," are on her CD "Closer Than Near" This show is broadcast live on W4WN Radio – The Women 4 Women Network (www.w4wn.com) part of Talk 4 Radio (http://www.talk4radio.com/) on the Talk 4 Media Network (http://www.talk4media.com/).

Camille flies solo! July 2, 2014

No guest – just host Camille Sanzone using her International megaphone to talk about a little of this, a little of that. In her inimitable style, she shares educational yet hilarious information about the sex habits of insects and animals. Funny, funny stuff! She plays some music, gives some movie reviews, and tells some terribly telling true tales. Prepare to be entertained, and inspired, too, by her desire to form a nonprofit, For a Better Way, to teach compassionate living in schools and in local communities; its mission: to help put a stop to bullying in all arenas of life. (To help Camille with the seed money needed to get her 501c3, please send gifts via PayPal to forabetterway@aol.com...

Johnny Sanzone - Laughter, Music & Love!

Host Camille Sanzone interviews Johnny Sanzone, her adult nephew. You're probably thinking she's biased, but the guy is truly and inordinately talented. A singer- songwriter, he also does voice impressions, plays guitar, harmonica, keyboard & drums. Frankly, the only thing he does not do instrumentally is BLOW HIS OWN HORN! So, Camille decided to do that for him. Johnny sings 2 oldies a cappella: "Little Bitty Pretty One," & "Daddy's Home," doing all the harmonies himself on different tracks. He sings one of his original songs, "Bee Bop Boogie," a fun parody he wrote: "Ain't No Housework When She's Gone," as well as 2 Billy Joel songs that might make Billy himself just a wee bit jealous. If ...

THE NEAR DEATH EXPERIENCE

Camille Sanzone's guest is David Bennett, Near Death Experiencer, former brash, logical-thinking man. After being technically dead for 17 minutes, he survived drowning in icy waters during a violent storm, and was never the same again. He shares details from his book Voyage of Purpose, including the sensations of dying, of being surrounded by the Light, and meeting his Soul Family. Camille then shares what she calls a Near-Life Experience, living on Someday Isle, that state of temporary suspension where we say someday I'll do this, someday I'll do that. She says we don't need to be awakened by other's Near-death experiences to live our own lives purposefully. Listen to her words of inspirati...

THE AKASHIC RECORD

Camille Sanzone's guest was Gabrielle Orr, a certified Akashic Record Teacher, a healing touch practitioner, and a Reiki master, among other things; but, alas, she does not do windows. Well, actually, she does do windows…in the sense that she can help you open the window to your soul. Through accessing the akashic record, Gabrielle says she will meet you where you are and take you where you long to go. So what is the definition of THE AKASHIC RECORD? Well, it's not a new record label. Some people believe the akashic record contains the knowledge of All That Is, All That Was, and All That Will Be, that it is a sort of cosmic library, a dynamic archive that bridges the physical and spiritual w...

Power Forward Woman - Phenomenal!

Camille's guest, her sistah from another mistah, was Star Williams, CEO and founder of Power Forward Woman, bringing women together to support each other and become successful women in business. Power Forward Woman's vision is to encourage each successful woman to pay it forward by inspiring and mentoring other women. Williams is a feisty, fired-up, soulful woman, and the always heartfelt, often amusing and ever animated conversation between her and host Camille is guaranteed to lift your spirits. (Contact Williams at: powerforwardwoman.com) There was also a touching tribute to Dr. Maya Angelou, who passed on May 28th. A recording of Dr. Angelou reciting "Phenomenal Woman" to a stunning musi...

Premier of Camille Sanzone's New Show!

Ever felt you were at the end of your rope? Get a new supply LIVE every Wednesday at 1 pm Eastern, on w4wn. My show, like my book, - At the End of your Rope? Tie a Knot & Hang On! Help has arrived! - will encourage you to find ever better ways of being in the world through laughter, compassion, awareness & understanding versus the need to be right. I will fly solo from time to time, but count on hearing guests from various fields who will engage, inspire, motivate, uplift, provoke, and incite you to positive action. A stand-up comic, I will inject humor as often as possible, for laughter is the healing balm that soothes us even on our worst days, and you deserve to be happy! To buy my book, ...

Autism Awareness & Movie Review

In honor of Autism awareness month, Camille Sanzone's guests are 12-year old Kaleb Brown both have Asperger's Syndrome, which is high on the autism scale. Kaleb writes has a show on AutismChannel.com & gives talks in schools on bullying & about his books. In the second half, a discussion of the movie "Heaven is for Real," from the book of the same title by Todd Burpo. Do you believe in Heaven? Isn't it curious – "Everybody wants to get to Heaven, but nobody wants to die!" Well, for a little slice of Heaven, listen every Wednesday at 1:00 pm ET on w4wn. Camille will make you laugh & just might make you think a little differently about life. A tall order for a 5'2″ gal, but she's up to the c...

An Homage to my Siciliana Mama!

This show is an homage to host Camille Sanzone's mother, Josie, a wonderful singer who passed in 1998. Camille plays a couple of her mom's Italian songs. Happiest when she was singing, her spirit must have soared knowing her voice finally went out on the air globally. According to Camille, her mom, not a funny woman, did and said things Camille found funny and so she was an integral part of Camille's stand-up comedy act. In this episode, Camille does bits from her stand-up routines, sitting down, of course, but it is just as funny. WARNING: It is a sentimental show. PROMISE: It is a very funny show. Give a listen, won't you?. You're gonna love this Siciliana Mama…may she rest in Pizza! (She ...

A bit o' this...a bit o' that!

In this episode host Camille Sanzone flies solo and she's not afraid of flying, so you're in for a hell of a ride! Topics include: • Social Media – does it connect us to or disconnect us from each other? • Her first "Dear Aunt Cami" segment • Fun with oxymora! • Talk about her book: At the end of your ROPE? Tie a Knot & Hang On! HELP HAS ARRIVED! (You can buy it here: ow.ly/wsLPC ) • Bits from her stand-up comedy routine TGIW – Thank God, It's WEDNESDAY! Join Camille each week LIVE at 1 pm Eastern on w4wn for a mid-week break that will entertain you and sustain you throughout the rest of the week. She promises you will always feel better after spending time with her, the friend you just have...

SEX TALK WITH MARILYN & CAMILLE

A frank discussion of all things sexual: • How to be SASSY, SEXY AND SAFE! • SEX AFTER SIXTY! • How to unlock the secrets to a happy, healthy sex life. • How to GET THE SPARK BACK. Camille Sanzone's guest Dr. Marilyn K. Volker, professor and sexologist for the past forty years, is a Diplomat of the American Board of Sexology and an Associate Fellow of The American Academy of Clinical Sexologists. She sits on the faculty of four South Florida universities & is Associate Professor at The Institute for Advanced Study of Human Sexuality (San Francisco, CA) where she received her doctorate. Dr. Volker provides individual & couples counseling. You can contact her at: besafemv@hotmail.com. Send let...

LIVING LIFE ON PURPOSE

Camille Sanzone's guest, Mary Anne Radmacher, (www.MaryAnneRadmacher.net), author of LEAN FORWARD INTO YOUR LIFE...begin each day as if it were on purpose, among other books, is also an artist & writing instructor. Living our lives on purpose gives us a better shot at being a shining example rather than a warning to others. Her latest book is SHE: A Celebration of Greatness In Every Woman, co-written by Liz Kalloch. The word "celebrate" is derived from a Latin word meaning to "fill up" & the writings in this book suggest that women, do that frequently – fill up, knowing that we matter greatly, that who we are & what we do matters. It reminds us that we deserve to feel known, cherished & love...