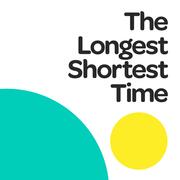 What Makes a Happy Family?

Comedian Julian McCullough's mom left the family when he was a kid. Now that he's got a family of his own, Hillary talks to him about what makes a happy family. What makes YOUR family happy? Anything that's surprised you? Tell us at the Longest Shortest Time.Like the Longest Shortest Time? Subscribe to our show in iTunes.

Lucy & the Bike Girl

Pregnant best friends who can never meet because being in the same room could be lethal. Do YOU have a close friend who you've never met in person? Was it sustainable? Not? Better than in-person friendships? Tell us at the Longest Shortest Time. Like the Longest Shortest Time?Subscribe to our show in iTunes.

Picturing Her

When Giancarlo Roma was four years old, his sister Mary died the day she was born — an experience that he says trained him to write a book from the perspective of an elderly woman. Have you lost a sibling? How has it impacted YOUR life? Tell us at the Longest Shortest Time, where you can also see beautiful photographs of Giancarlo growing up, taken by his father, photographer Thomas Roma. The pictures are from a book called the Waters of Our Time that the father-son team made together, loosely based on the experience of losing Mary. Like the Longest Shortest Time? Subscribe to our show in iTunes.

The Parents' Guide to Eating Over the Sink

We all know that getting kids to eat healthy meals can be messy. But what about how YOU eat once you have kids? Dan Pashman of the Sporkful podcast tells host Hillary Frank how to make those 2.5 minutes scarfing down food over the sink as delicious as possible. But grosses her out in the process. He even has a ranking system for post-meal detritus. Now that you've had a chance to reflect on your own eating habits, be sure to check out our Google+ Hangout on how to make mealtime happier. We'll be joined by Dan Pashman and pediatric dietitian Heidi Kecskemethy to help solve all of your kid + parent eating conundrums. You can submit questions ahead of time here. How have YOUR eating habits chan...

How Cute! Is He Yours?

When Nicole Blades started a family with a white guy, she knew their kid's skin color would be lighter than hers. But she didn't count on people routinely questioning whether she was her son's mom. After a lot of silent outrage, Nicole finally came up with the perfect quippy comeback to "Is he yours?" But would it work? What's YOUR trigger question? As parents, we all seem to have questions that set off immediate inner rage. What question sets you off, and have you found a comeback that makes you feel better? Tell us at the Longest Shortest Time!

The Reluctant Father & His Wife

Photographer Phillip Toledano has been applauded in the media for his deeply gritty depiction of first-time fatherhood in his book The Reluctant Father. This week, in a cautionary tale on marriage, we hear what his wife thought of his reluctance. Are you in a relationship where one partner was more reluctant than the other post-baby? What broke the frost? Tell us - and see more of Phillip's photos - at the Longest Shortest Time!

How to Brag to Your Mom Friends

Hillary and her friend Kate tackle the question: Is it possible to share your parenting triumphs with other moms without making them feel bad? Normal 0 false false false EN-US X-NONE X-NONE <w:LsdException Locked="fal

When Mommy Means Everything

A toddler starts talking, then moves to a new country where she doesn't know the language. And suddenly the only word she will say anymore is "Mommy." Are you raising a bilingual child? Join the conversation and leave a comment at the Longest Shortest Time.

The Shortest Day

Poet Arielle Greenberg's son Day dies 31 weeks into her pregnancy. At which point, she makes a whole bunch of choices that not many women would make, so she can emerge from stillbirth not completely broken. And . . . it works.

The Missing Chapter to Ina May's Guide

I ask the mother of the modern midwifery to revise the message from the natural birth movement—and, remarkably, she says I'm making her want to add a chapter to her book. **Ina May has asked for your feedback. If you wanted a natural birth and didn't get one, leave a comment here for Ina May Gaskin.**

Rewriting Your Birth Story

Join me as I attempt to rewrite my traumatic birth story, four years after the fact.

Blind Love

It's a fact: even the most romantic romances wither under the pressures of parenthood. But what happens in a relationship when, on top of everything else, one partner is going blind?

The Provider's Guide to Quitting

Bry wanted to be a dad. And he thought the only way to be one was to quit doing the thing he loved most. So he did.

Due Date Desert

A mom breastfeeds her preemie against all odds. Then she wakes up on her due date. Dry.

The Longest Longest Time

Lisa's longest shortest time lasted 11 years. And it all went down before she even had a baby.

The Mom Who Did Everything Wrong

Heather told me she did everything wrong in her first years as a mom. Judge for yourself (but don't be too judgy).

The Numbers

After having a preemie, my friend Kirsten unwittingly takes on her husband's personality, and becomes obsessed with numbers. To the decimal point.

I've Got News 5

We conclude the I've Got News series with the birth of Ellen's baby . . . and the project Tom took on to cope.

The Mortality of Motherhood

A war correspondent on childbirth vs dodging a sniper.

I've Got News 4

Two weeks before their due date, Ellen and Tim reflect on the game of Being Awesome at Being Adult.

I've Got News 3

We continue our series following a young pregnant woman, this time with grandpa's perspective.

I've Got News Too

Tom got news. Then more news. Now there's even more.

What YOU Expect When You're Expecting

The first installment in our miniseries following a woman through early motherhood.

And Behind Door Number Two …

Toilets, exposed body parts, . . . pornography?! My friend Nat shares her horror story about pumping at work.

Making Noise to Prevent More Noise

A toddler sniffs all of his Christmas presents before opening them and his mom realizes something is really wrong. What Tourette's, OCD, and ADHD look like in a young child.

I've Got News

A newly married guy finds out his wife is pregnant while he's at sea and just a few years later, to his surprise, becomes a stay-at-home dad.

Nap Boot Camp

An exasperated mom decides that her daughter WILL nap in her crib by the end of the week.