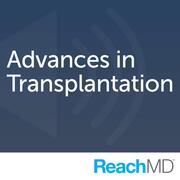 Psychological Screening Before Transplantation

Hosted by: Aaron Carroll Guest: Audrey A. Krause Psychosocial issues arise before, during and after organ transplantation. To address these issues proactively and comprehensively, many transplant centers incorporate a psychological assessment as part of the protocol to evaluate patients for transplantation. What are the psychological criteria for inclusion or exclusion for listing? And how are psychosocial issues managed for patients both before and after surgery? Host Dr. Aaron Carroll's guest is Dr. Audrey Krause, assistant professor of clinical psychology at the Indiana University School of Medicine.

Lung Allocation and Who is Transplanted

Hosted by: Aaron Carroll Guest: John M Reynolds Which patients are good candidates for lung transplantation? How sick does a patient need to be to qualify? How does the transplant allocation system work? Host Dr. Aaron Caroll welcomes Dr. John M. Reynolds, medical director of Indiana University Health Lung Transplant Program, to discuss these questions and other considerations regarding potential lung transplant candidates, including the lung allocation score system, and how to assess the optimal time frame to transplant patients for the best chances to improve overall quality of life.

Multivisceral Transplantation for Neuroendocrine and Desmoid Tumors

Hosted by: Aaron Carroll Guest: Rodrigo M. Vianna Multivisceral transplant entails the transplant of nearly all the abdominal organs, with the exception of the kidneys. It is a highly unusual procedure, with only about 30-40 such surgeries occurring per year in the United States, compared to thousands of liver transplants performed annually, in only about seven transplant centers in the United States. Host Dr. Aaron Carroll welcomes Dr. Rodrigo Vianna, director of intestinal and multivisceral transplant at Indiana University Health, to discuss when multivisceral transplant can be used to treat patients with rare tumors, such as neuroendorcrine or desmoid tumors.

The Case for Pancreas-After-Kidney Transplantation in Type 1 Diabetics

Hosted by: Aaron Carroll Guest: Jonathan Fridell Although most patients with type 1 diabetes are able to rely on insulin to effectively manage their condition, sometimes insulin is not enough. When should these patients consider pancreas and/or kidney transplant? Dr. Jonathan Fridell, surgical director of the pancreas transplant program at Indiana University Health, talks with host Dr. Aaron Carroll about the benefits of separate or simultaneous pancreas and kidney transplantation, and says that such transplants can effectively cure patients of their type 1 diabetes. Of course, not every patient with type 1 diabetes is an appropriate candidate for transplant, and sometimes the side effects o...

When to Consider Liver Transplantation for Patients with Hepatitis C

Hosted by: Aaron Carroll Guest: Paul Kwo Approximately three million people in the US have hepatitis C. In some cases, hepatitis C can be completely cured. However, many with the condition may be asymptomatic for decades and thus are not diagnosed until the disease has progressed into later stages. This is problematic, because when hepatitis C advances, it may cause scarring of the liver. When should liver transplant be considered for these patients? And what is the rate of recurrence and necessity for re-transplantation? Dr. Paul Kwo, medical director of the adult liver transplant program at Indiana University Health, discusses treatment options for patients with various stages of hepatitis...

Organ Shortages, and When Living Organ Donation Might be a Viable Alternative to Deceased Organ Donation

Hosted by: Aaron Carroll Guest: Tim Taber Patients needing transplantation have two options--receiving an organ from a deceased donor or a living donor. In which cases might living organ donation be a viable option, and what are the advantages to this procedure? Dr. Tim Taber, medical director of the kidney and pancreas transplant program at Indiana University Health, discusses the issue of organ shortages, how organs are allocated and the process of living organ donation. Dr. Aaron Carroll hosts.   

From the Waiting List to Recovery: Lifestyle Aspects of Transplantation

Hosted by: Aaron Carroll Guest: Patricia Scott Transplantation offers patients a new lease on life, but the process of waiting before and recovering after a transplant can take their toll. Host Dr. Aaron Carroll is joined by Dr. Patricia Scott, who studies occupational role transitions throughout the liver transplantation process at Indiana University, to discusses the challenges patients face and their quality of life before and after transplantation. Dr. Scott also talks about how healthcare providers can help foster a better quality of life for patients surrounding transplantation.

Transplant and Treatment Options for Patients with Hepatocellular Carcinoma

Hosted by: Aaron Carroll Guest: Mary Maluccio While the incidence of many types of cancer in the United States has decreased in recent years, the incidence of hepatocellular carcinoma, secondary to either hepatitis B or cirrhosis, has been on the rise. And, of the treatment options including resection, ablation and transplantation, what tumor characteristics determine treatment and which patients might benefit most from liver transplant? Dr. Mary Maluccio, director of the liver oncology program at Indiana University Health, discusses the advantages of transplant, the length of time that patients generally wait to receive a donor liver and the criteria for donor organs. Hosted by Dr. Aaron Ca...

Xenotransplantation: History and Current Advances Part 1 of 2

Hosted by: Aaron Carroll Guests: Paul R. Helft, A. Joseph Tector The necessity for transplantation of living cells from other species, or xenotransplantation, may arise when human donors are not available, a bridge organ is needed, or animal cells can provide a unique benefit to patients. Host Dr. Aaron Carroll's guests are xenotransplantation experts Dr. Paul Helft, director of the Charles Warren Fairbanks Center for Medical Ethics at Indiana University Health, and Dr. Joseph Tector, chief of transplant surgery at Indiana University School of Medicine. What is the history of xenotransplantation? What donor species are currently the subject of the most promising research in terms of solid or...

Advanced Heart Care: Timing Considerations for VAD and Transplant

Hosted by: Aaron Carroll Guest: Thomas C. Wozniak Currently, 3 to 5 million people per year suffer from heart failure in the United States; one-third of these patients suffer from Class III or Class IV heart disease. Host Dr. Aaron Carroll welcomes Dr. Thomas Wozniak, surgical director of the Indiana University Health Thoracic Transplant Program. Dr. Thomas discusses the advanced heart failure patient, and who is a candidate for ventricular assist device (VAD) therapy and cardiac transplantation and considerations about timing.