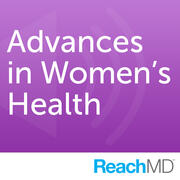 How to Help Women with Sexual Issues

Hosted by: Lauren Streicher Guest: Jan Shifren Most research reveals 30 to 40 percent of women in the United States say they have sexual issues. A recent study examined how many women consider their sex issues to be a problem. With host Dr. Lauren Streicher, Dr. Jan Shifren, an associate professor of obstetrics, gynecology and reproductive biology at Harvard Medical School, looks at the findings of her research. The two review the impetus for the study, questions that were asked from 30,000 participants, and what has been gleaned from the results. The two also touch on whether testosterone and Viagra should be prescribed to help women who are distressed by their sexual issues.

Healthcare for Women with Disabilities: Challenges and Breakthroughs

Hosted by: Lisa Mazzullo Guest: Cassing Hammond What's it like to not be able to get a mammogram because the machine does not accommodate a wheelchair? What's it like to be a paraplegic and want to have a baby? These are just two of the growing number of daily problems facing the more than 25 million women with disabilities in the United States. Dr. Cassing Hammond, director of family planning and contraception at the Feinberg School of Medicine at Northwestern University and director of ob/gyn services at the Rehabilitation Institute of Chicago, discusses with host Dr. Lisa Mazzullo the challenge of contraception choices, welcoming these patients to the typical doctor's office, as well as t...

Managing Dual Conditions in Pregnant Substance Abusers

Hosted by: Lisa Mazzullo Guest: Mishka Terplan Researchers have no way to determine how significant the problem of substance abuse and pregnancy really is. Very few women will be open and honest when it comes to answering questions about elicit drug use. So how do doctors get their patients the proper help? Dr. Mishka Terplan, an associate professor at the University of Chicago, looks at the issues of universal drug screening for all pregnant women, confidentiality, inpatient and outpatient drug rehabilitation programs and the stigma of being a substance abuser, with host Dr. Lisa Mazzullo.

How to Address Obesity in Clinical Practice

Hosted by: Lauren Streicher Guest: Sandra Carson Host Dr. Lauren Streicher continues her discussion with Dr. Sandra Carson, professor of obstetrics and gynecology at the Warren Alpert Medical School at Brown University, on how to tackle the issue of treating obese women. They discuss diet plans, lifestyle modifications, counseling strategies, and medications to best treat obese patients.

Can a Needle in the Neck Prevent Hot Flashes? A Look at an Alternative Treatment

Hosted by: Lauren Streicher Guest: Eugene Lipov Women who have hot flashes may experience episodes up to 80 times a week. Estrogen is the most common treatment, but oftentimes it's just not enough. Dr. Eugene Lipov, an anesthesiologist and medical director of Northwest Hospital's Advanced Pain Center in Arlington Heights, Illinois, discusses with host Dr. Lauren Streicher his pioneering use of the stellate ganglion block to alleviate hot flashes for women. The two cover the procedure for administering the block, the success rate and complications, as well has how Dr. Lipov came up with the concept. Dr. Lipov also talks about how the block aids in better sleep patterns for post menopausal wom...

The Mysteries and Challenges of Treating Mild Cervical Dysplasia

Hosted by: Lisa Mazzullo Guest: Enrique Hernandez Cervical cancer is the second leading cause of death in women around the world. Many of these deaths can be avoided if women with mild cervical dysplasia are treated early. In the last few years, doctors have clarified the cytology and pathology for women in order to treat the problem effectively, while not over-treating the issue. Dr. Enrique Hernandez, chairman of the department of obstetrics, gynecology and reproductive sciences at Temple University School of Medicine in Philadelphia, joins host Dr. Lisa Mazzullo to talk about the treatment plan for women with mild cervical dysplasia as well as recommendations for treating the disease in t...

Questions Answered About the HPV Vaccine

Hosted by: Lisa Mazzullo Guest: Sharmila Makhija Since the Gardasil vaccination has only been administered to young girls and teens since 2006, there are still questions concerning who should get the vaccine and under what circumstances., and the effectiveness of the vaccine if not taken according to suggested protocol. Dr. Sharmila Makhija, director and associate professor of gynecologic oncology at the University of Alabama, tackles with host Dr. Lisa Mazzullo who should receive the vaccine. They also discuss whether or not it's beneficial for patients to be typed and tested for HPV before receiving the vaccinations, and what happens if a patient becomes pregnant while receiving the vaccin...

Exploring Life Expectancy: Why Do Women Live Longer Than Men?

Hosted by: Lauren Streicher Guest: Marianne Legato Women account for 85 percent of the people in the industrialized world who have reached 100 years of age. What accounts for the longer lifespan of women? Dr. Marianne Legato, founder of the Partnership for Gender-Specific Medicine at Columbia University College of Physicians and Surgeons, talks with host Dr. Lauren Streicher about the significance of gender on life span. They discuss the roles that biology, lifestyle, and social factors play in longevity, and probe whether social changes in the industrialized world may be closing the gap.    

Epidural Anesthesia and Challenges in Pain Control

Hosted by: Lisa Mazzullo Guest: Cynthia Wong Epidural anesthesia has changed dramatically since its introduction to the obstetric arena in the early 1970s. Now we have various types of epidurals we can administer during labor. One of the major obstacles for anesthesiologists is determining how women perceive pain during labor and how to administer the proper dosage of pain medication. Dr. Cynthia Wong, associate professor of anesthesiology at Northwestern University's Feinberg School of Medicine, joins host Dr. Lisa Mazzullo to discuss these issues, and her recent study that looks at the rate of Cesarean deliveries when epidural anesthesia is administered at different times during labor.

It Takes an Army to Fight Breast Cancer

Hosted by: Lauren Streicher Guest: Susan Love Dr. Susan Love, medical director and founder of the Dr. Susan Love Research Foundation, joins host Dr. Lauren Streicher to talk about the Love/Avon Army of Women initiative, which seeks to recruit one million women of all ages and backgrounds to participate in breast cancer research. Dr. Love explains how doctors can apply to be involved in the research process and how your patients can become part of the army of women.