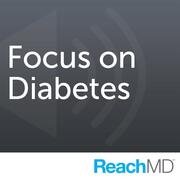 Regeneration of Insulin-Producing Islets in our Patients

Hosted by: Bruce Bloom Guest: G. Alexander Fleming Researchers are looking at hundreds of ways to treat and cure type one diabetes. Most of the advances so far have come in newly diagnosed children. Is there anything on the horizon to help adults with established type one diabetes? Dr. Alexander (Zan) Fleming, chairman and chief medical officer of Exsulin, joins host Dr. Bruce Bloom to discuss the new therapies for reversing established diabetes.

Cardiac Screening for Asymptomatic Patients With Diabetes

Hosted by: Lee Freedman Guest: Steven Wittlin It is often thought that patients with diabetes have more "silent" heart disease than patients without diabetes: Coronary artery disease is a leading cause of death among these patients. But is screening all asymptomatic patients with diabetes for the condition prudent, or should we exercise caution when considering cardiac screening? Dr. Steven Wittlin, associate professor of medicine and clinical director of the endocrine/metabolism division at the University of Rochester in New York, makes screening recommendations based on the recent Detection of Ischemia in Asymptomatic Diabetics (DIAD) study. Dr. Lee Freedman hosts.

Understanding Your Patients' Diabetes Medications and Devices

Hosted by: Shira Johnson Guest: Rita K. Cydulka Seven percent of the adult population has diabetes, and these patients often present to primary care and emergency department physicians. What do you need to know about the medications these patients may already be taking, or that they may require once they're under your care? Understanding the effects, as well as potential complications, of the most current diabetes medications and devices is crucial when treating patients who have diabetes. Dr. Rita Cydulka, professor and vice-chair of the department of emergency medicine at Case Western Reserve University, joins host Dr. Shira Johnson to highlight the new medications and devices for managing...

Do We Already Have the Cure for Type 1 Diabetes?

Hosted by: Bruce Bloom Guest: Denise L. Faustman We spend billions each year to research possible cures for type I diabetes, but the cure may already be on the shelf.  Join host Dr. Bruce Bloom and his guest, Dr. Denise L. Faustman, associated professor of medicine at Harvard Medical School and director of the Immunobiology Laboratories at Massachusetts General Hospital, as they explore the first clinical trial using generic drugs to try to cure type I diabetes.

The Highs and Lows of Managing Diabetes in Teenagers

Hosted by: Mary Leuchars Guest: H. Peter Chase For teenage diabetic populations, maintaining good glycemic control is often a low priority. Clinicians and families need to be aware of special considerations in this age group to ensure better control and reduce risk for postpubertal complication. How do physicians optimize management protocols for patients entering a stage of rapid hormonal flux? Can school support systems and peer groups play integral roles? Answering these questions with host Dr. Mary Leuchars is Dr. H. Peter Chase, professor of pediatrics at the University of Colorado Health Sciences Center and past executive and clinical director of the Barbara Davis Center for Childhood ...

The Cost of Diabetes to the Healthcare System

Hosted by: Bruce Japsen Guest: Joanna Jiang The new health reform law will take steps to encourage patients to use preventive tests and screenings to head off chronic conditions, like diabetes, that extract a huge toll on the nation's medical care budget. Exactly how much doe diabetes care cost the medical system, and where is the money going? Dr. Joanna Jiang, senior research scientist at the AHRQ (the Agency for Healthcare Research and Quality), tells host Bruce Japsen about the origin of hospital costs and its surprising toll on the system.

Community Based Initiatives for Diabetes Around the Globe

Hosted by: Cathleen Margolin Guest: Kenneth Moritsugu The diabetes pandemic must be addressed around the globe with consideration for varying cultural and economic factors. How will countries around the world respond? And how can intervention programs that have proven successful be shared effectively across nations? Join host Dr. Cathleen Margolin as she discusses community based initiatives for diabetes with Dr. Kenneth Moritsugu, former Deputy Surgeon General and current chairman of the Johnson & Johnson Diabetes Institute.

Etiology and Treatment for Diabetic Macular Edema

Hosted by: Bruce Bloom Guest: Mary Elizabeth Hartnett Almost a third of all type I and type II diabetics develop macular edema. Join host Dr. Bruce Bloom and his guest, ophthalmologist, researcher and vitreo-retinal surgeon Dr. Mary Elizabeth Hartnett, professor of opthamology at the University of North Carolina at Chapel Hill School of Medicine, as they discuss the etiology and treatment of diabetic macular edema.

Mild Exercise and Reducing the Complications of Diabetes

Hosted by: Bruce Japsen Guest: Timothy Church Motivating your patients to exercise can be a challenge. But Dr. Timothy Church of the Pennington Biomedical Research Center in Baton Rouge, Louisiana, tells host Bruce Japsen that even 15 minutes a day can help, citing research that shows even minimal exercise can be a benefit to the obesity epidemic and other diabetes risk factors.

How Technology is Improving Care for Patients With Diabetes

Hosted by: Lisa Dandrea Lenell Guest: Adam Weinstein With Web-based technologies, the click of a mouse can give doctors and advanced practice clinicians access to their diabetic patients' records follow-up information, and save them from having to search through charts or request information from other doctors. Adam Weinstein is the manager of the clinical intelligence team for Athenahealth in Watertown, Massachusetts. He joins host Lisa Dandrea Lenell to talk about setting up your practice to meet diabetic recognition goals. They look at the requirements, advantages, costs and time it takes to set up the data and tracking tools.